Out With The Old In With The New
Sophia Barrett, Junior News Writer
December 18, 2017 • 347 views
Hang on for a minute...we're trying to find some more stories you might like.
For more than a year construction has been taking place to expand the current 24/7 gas station on 2200 N Buckeye. Plans have been in the works since 2015, but construction began officially in October 2016 when America's Best Value Inn was purchased by Triplett Inc., the parent company of 24/7. Both the motel and the restaurant next door, previously La Fiesta, were demolished in order to make space for the expansion. The construction will change the store from a travel stop to a truck stop, with the addition of diesel fuel items, a restaurant, and a few other truck stop amenities. The main focus is on updating the store, not making it a large truck stop. Triplett Inc. also plans to use some of the available land to partner with and build a hotel and restaurant, as they have at other truck stop locations. Recently there have been rumors circulating that the expansion has been cancelled, but these were proved to be false by executives at Triplett. In fact, Larry Pankratz, the business development manager for Triplett, stated that they would also be trying to include displays regarding President Eisenhower and the Chisholm Trail in the new store to provide information to visitors in Abilene. As Mark Augustine, the president of Triplett Inc., stated, "The Abilene 24/7 Travel Store location is important to our operations and we plan to provide the city of Abilene an attractive entrance into the community."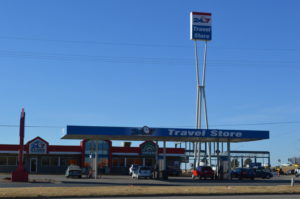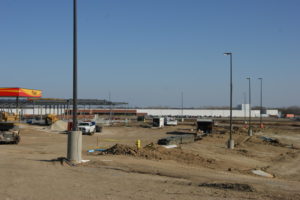 However, 24/7 will soon not be the only truck stop in Abilene. Construction recently began on the Love's truck stop just off I 70. A ground-breaking ceremony took place on October 2, with the mayor and members of city council present. The truck stop is scheduled to officially open in June 2018. Unlike 24/7, Love's will be a complete truck stop, with 74 parking spaces for professional truck drivers, 55 parking spaces for motorists, 5 showers, 8 diesel fuel pumps, 12 gasoline pumps, a tire care center, and laundry facilities. The 11,000 square foot center will also contain a Hardee's restaurant. The project is estimated to cost between $12 million to $15 million, and is expected to expand the county's tax base and increase sales tax. City commissioners hope for the center to be a catalyst for future development as well as improving sewer and water lines.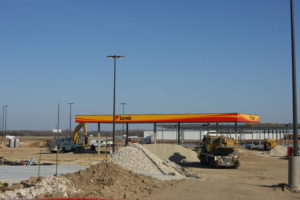 Print Friendly