Accessibility: Life Through my Eyes
Emilee Delgado, Sophomore Staff Writer
December 11, 2017 • 397 views
Hang on for a minute...we're trying to find some more stories you might like.
Ask any student and they'll tell you high school is one of the hardest times to get through in our lifetime. We have to take finals, run all around the school like chickens with their heads cut off, constantly have piles of homework every night, and still have to keep a social life (well, most of us).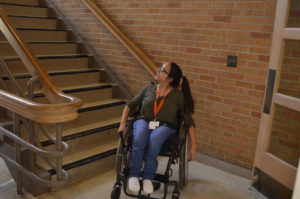 Navigating high school instantly becomes excruciatingly harder when you live your life in a wheelchair, like me.
For starters, people aren't exactly the most considerate in the hallways. Ok, I get it, you're trying to make it to your first hour before the bell rings and you're rushing down the hallway. That's cool, I don't mind – just watch out for others. These hallways are tiny and jam packed all the time, so be as careful as you can.
The elevator placements are definitely a big challenge, though I realize there isn't much to do besides make the best of it. Trying to make my way from a class on the first floor all the way to the third takes forever. I have to take two separate elevators – a whole hallway apart, mind you – and then pray I make it to class on time. I get a couple extra minutes to get to class, but I prefer to not use them because they make me feel 'different,' like an outsider almost.
Football games aren't even completely accessible. My wheelchair doesn't fit into the stands without blocking the whole front row. I don't want to do that, would you? If I decide to venture out from under my pile of blankets and leave my dog for some Friday Night Lights, there's always that little reminder in the back of my head that I'm not going to actually be able to sit with the student section.
I ran into this problem last week: if I'm on the third floor and need a drink, I have to go down a whole level. The water fountain is way too tall for me, considering I'm the tiniest person you'll ever meet. That's crazy! It takes me five minutes to get a drink instead of five seconds: I have to scan my card to the elevator, get to the second level, go down half a hallway, and then repeat the process to get back upstairs.
Last year, the curb to the Agriculture Building was supposed to be cutout for easier access to getting inside – this was never done. To get inside, someone has to lift my chair up the curb and back down when leaving. How does this make me independent for in the future? Someone may not always be there to help me get up the curb, and then what happens? Title III of the Americans with Disabilities Act states "…public accommodations to remove barriers in existing buildings where it is easy to do so without much difficulty or expense [is required]…"
The Americans with Disabilities Act (ADA) became law in 1990. This law prohibits discrimination against individuals with disabilities in all areas of life – including jobs, schools, transportation, and all public and private places that are open to the general public. The purpose of the law is to make sure that people with disabilities have the same rights and opportunities as everyone else.
If you're wondering, there are some perks to being 'handicapped.' I get my own key to the elevators, and it has my name on it. I don't know about you, but that's pretty awesome if you ask me. I get an up-close seat to the football games; every tackle and touchdown is literally right in front of me. The moral of this story is to stay positive no matter what. If you totally just bombed that biology test, don't sweat it. Roll (haha, get it?) a day in my shoes and you'll soon realize those little things don't really matter anymore.

Print Friendly