"Shut Up and Dribble"
Wyatt Davis, Junior Staff Writer
March 2, 2018 • 227 views
Hang on for a minute...we're trying to find some more stories you might like.
Seventeen year old, Joaquin Oliver, one of the 17 lives lost in the tragic Douglas High School Shooting. The veteran Miami Heat player was Oliver's favorite player and he frequently watched him play.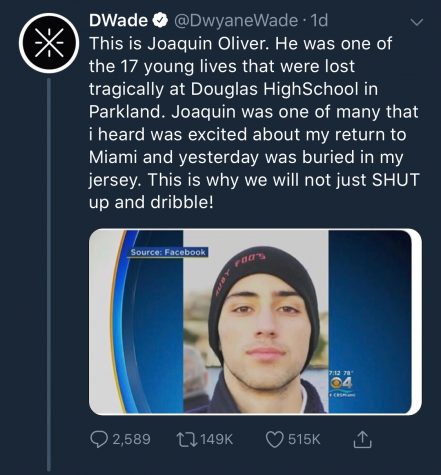 His family decided it would be best for him to be buried in a Dwyane Wade jersey.  The NBA star is meeting with the family and thanking them.  Wade is honored that the family thought to do that.  Dwyane Wade stated, "That they thought of me in the process, as something that he would have wanted, is mindboggling."  He had also wore shoes and dedicated his whole Heat season to Oliver and his agent that died in January.
Last night, Tuesday the 27, he drilled the game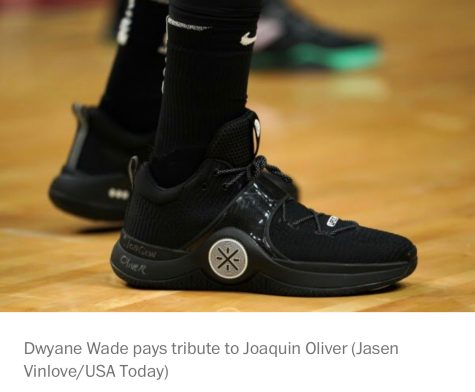 winning shot against Philadelphia and had dedicated the game to Oliver prior to the win.  He tweeted, "…Joaquin Oliver may you Rest in Peace and I dedicate my return and the rest of this Miami Heat season to you."  His twitter has been blowing up with tweets on the topic, all of them are highly emotional.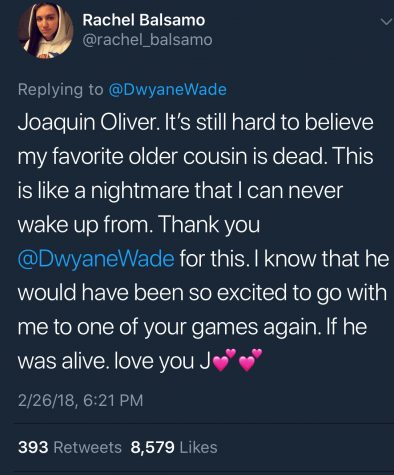 Oliver's younger cousin, Rachel Balsamo, replied to Dwyane wade on Twitter "…Thank you @DwyaneWade for this.  I know that he would have been so excited to go with me to one of your games again…"  Dwyane Wade is a voice for the people who do not have one.  They will not "shut up and dribble".

Print Friendly