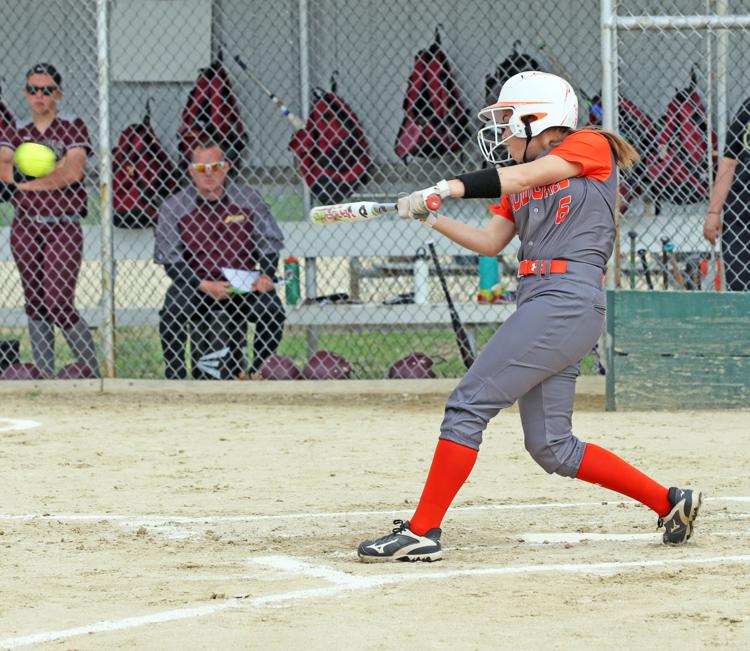 Ron Preston, Abilene Reflector-Chronicle
BELOIT – Doubleheaders are a part of the ballgame, but that doesn't make playing them any easier.
Such was the situation in late April in Beloit, where the Cowgirl softball team scheduled a doubleheader with the Blujays. From the on-deck circle stood Rylie Volkman, a senior who has a lot more going on outside of the walls of the ball diamond. She is a figurehead of Abilene's FFA chapter and a high-standing academic. But as of now, staring ahead towards the team, she has a lot more in mind to do at the moment.
She stepped into the batter's box and analyzed the pitcher. They wound up, underhand, of course, and submarined a throw just inside her zone. Rylie swung, connecting just underneath the ball. The dull sound of leather colliding with a bat filled the smaller stadium as the neon yellow ball went flying towards the right field fences. Rylie took off, bounding towards first base with as much speed as she could muster. Flying past first, she glanced to the outfield for a split second in time to see the outfielder still picking up the ball.
"She's a rockstar." Chris Delay
Turning, her eyes planted firmly on the third base coach, emphatically waving for her to come to third. She kept her eyes there, finishing her sprint just in time. Safe at third. A few plays later,  senior Emily Burt sent Rylie and fellow senior Maci Debenham home on a mashed single.
Sadly, it wasn't enough to win the game. The Cowgirls lost this game and the follow-up, with Rylie performing well in both losses. It was even more admirable considering that playing Beloit is basically the same as playing North Dakota State in football–despite being 3A, Beloit is ranked as one of the better teams in the state.
Softball had always had a place in Rylie's life.
She first started playing when she was very young, and continued with it today. Oftentimes as a young child she would hang around the large dirt piles of Ted Power Field with her friends. Since then, she's poured ten years into her softball career.
Once she got to the high school, she found ways to improve rapidly on the team, finding significant varsity time along the way.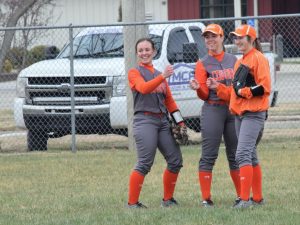 Earlier this year in a game against Chapman, Rylie helped lead a slight offensive burst to take the game 2-1. The game in general, hedged by dark clouds on all sides of the stadium, was fairly defensive, focusing on a pitching duel between Emily Burt and Chapman's Alexandra Hoelscher.
The game was scoreless into the fifth inning. After a failed bid for home by junior Kayley Taylor left the Cowgirls with two outs and one on base, Rylie stepped up to the plate once again.
She mashed a double, sending sophomore Ashton Roth home for the first run of the game. It seemed the heavens themselves knew Rylie brought the thunder. Just after the game ended, the field entered a lightning delay. Within 20 minutes, it was raining sheets sideways and small hailstones pelted the field. Mason Cook, who was attending, described it as "chaotic."
"Getting hits together was key," head coach LouAna Taplin told Ron Preston of the Abilene Reflector–Chronicle following the game from the relative safety of indoors.
That was the final game of that season, and while it was fairly disappointing–the team ended the season 7-12 following the rainout of the second game–there was a lot to be proud of. Especially for Rylie, who found a way to find the bases almost once per game. Anyone who is a fan of sports with balls and bases knows that such a feat is difficult, no matter the color and size of the ball.
Rylie somehow found a way to make it look easy.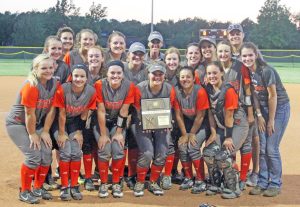 Last season was a bit of a miracle season for the Cowgirls, landing a spot in the State tournament with a chance to win their first state championship since 2009. In the game that sent them to the tournament, ironically against Hays, Rylie provided a strong bat and helped electrify an offense that scored 9 runs in the first game and 12 in the second. Rylie herself recorded three hits and two runs in the effort.
She had been a solid contributor in the outfield for the whole season, using her mobility and catching ability to make a difference in center field.
"She's been a phenomenal contributor," Abilene's color commentator Trent Sanchez noted during an at-bat this season. Head coach LouAna Taplin has also been vocally appreciative of Rylie, albeit in team environments. She was not available for comment as of the writing of this article.
Rylie is a phenomenal ballplayer. However, softball isn't the only area in which she excels. Rylie is also a leading member of Abilene's chapter of FFA, serving as the president.
Fellow FFA senior Megan Anguiano took time to praise Rylie's leadership. "She's an awesome leader for the chapter; she has pushed us to work hard all year. She constantly wants the chapter to improve. She has a big goal for the chapter and wants us to get there. She has shown what it takes to be a leader and she fits the FFA motto perfectly."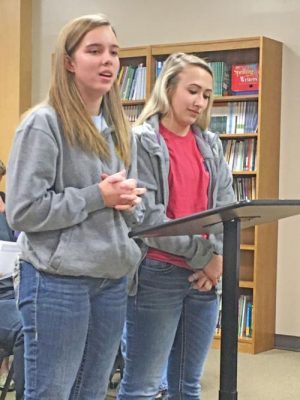 Megan and Rylie both received the $4,500 Dickinson County Agriculture Future of America Leader Scholarships on Achievement Night, on May 7th.
Fellow officer Josiah Schwarz called her "thorough and effective." Most of the younger members of FFA share his sentiment.
Rylie is also a highly respectable student in both her academics and work with the school. She has lead the yearbook staff this year, utilizing the same leadership skills from FFA to produce a product better than the year prior. "She's a rockstar," overseer Chris Delay noted during Achievement Night.
Delay's words don't ring hollow.
The many things that Rylie has handled and taken control of have placed her in a rare position of leadership for many seniors. She has found ways to put herself in positions to succeed throughout high school, and as she advances toward college, it's unlikely that will change.
She found herself as a homecoming queen candidate during the fall season, and now at the end of the year has thousands of dollars of scholarships toward her cause.
Her leadership and initiative have made a large mark on Abilene, not just in the communities of FFA but also in softball and yearbook, as well as other organizations and classrooms throughout the school. She will be sorely missed and fondly remembered.
Special thanks to the photographers at the Abilene Reflector-Chronicle, Ron Preston and Kathy Hageman, as well as AHS teacher Dave Linn, for the use of their photographs.