AHS Musical Cast
*This story has been edited on September 20th, 2018 to correct the spelling of Adam Henely's name.
The annual AHS musical cast list has been published. The Abilene students involved in the musical are excited to prepare for the musical that will be shown at the Abilene High School Auditorium on November 1st.
Each student signed up for an audition time. Mrs. Whitely had students fill out an information sheet when they arrived and gave them the opportunity to read and practice the monologues that are selected pieces for auditions. They were also able to look over the music that they would be singing. During the audition process, they gave each student a choice of which monologue they wanted to read. Once all students auditioned, the directors posted a callback list for students to be seen again.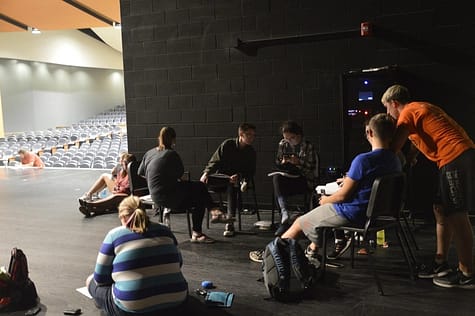 "Call backs include more line reading, singing, and chemistry between actors/actresses."

— Mrs. Whitely
Casting was the most difficult part of the process. AHS has extremely talented students, so the directors had to take many different qualities into consideration. They looked at what each student would add to the production in work ethic, acting talent, attitude, dependability, and myriad of other considerations. It is not as simple as casting upperclassmen. There have been many occasions where underclassmen have gotten leading and principle roles. We just happen to have several very talented and theater engaged students in the senior class this year.
The musical uses the same characters that are known and loved from the t.v. series and the movie The Addams Family. However, the storyline is unique to the musical production. The plot of the show seemingly begins to be about the love story of Wednesday Addams and Lucas Beineke (played by Harlie Delay and Dakotah Whiteley). As the story unfolds, you begin to realize that the love unique love story of Gomez Addams and Morticia (played by Jackson Welsh and Abby Elliott) is highlighted as well as the relationship of Lucas' parents Mal and Alice (played by Lucas Cook and Liz Collins). The show is cleverly narrated in part by Uncle Fester (played by Dawson Whalen). The remaining principle roles of Lurch (Ivy Tompkins), Pugsley (played by Allison Liby), Grandma (Mara Coufal), and Cousin It (Grace Griffith) make cameo performances throughout the show to round out the storyline. The stage it brought to life….or more accurately…..to death, with 23 of the Addams Ancestors through the ages, in ghost form. Addams Ancestor Ensemble includes: Braydon Suritte, Maren Meneley, Adam Henely, Jendaya Leder, Mason Cook, Hailey McMillen Trinnity McMillen, Dylan McMillen, Tearney McGivney, Lewis Trotter, Grace Etherington, Dylan Delay, Naomi Dannefer, Alice Bathurst, Rhegan Sprouse, Sarah Cooper, Matigan Kobiskie, Maddie Schmitz, Erika Lynn, Aelyn Arevalo, Jenna Tyler, Anessa Leidig, and Tiffany Carriker.