Cowboy Football Scoreless in Loss to Chapman
The Abilene v. Chapman game is a rivalry that has been marked as the best high school football rivalry in Kansas by ESPN. It also boasts the title of the oldest rivalry west of the Mississippi River. Since 1892, the Cowboys and Fighting Irish have battled for bragging rights, pride, and league standings.
The Abilene Cowboy football team suffered an embarrassing shutout loss at home to rival Chapman by a score of 26-0 on Friday, September 14th. There was no answer for Chapman running back Dalton Harvey, who rushed for over 200 yards and two touchdowns. Also, senior quarterback Izek Jackson and senior wide receiver Brandon Colston caused problems for the Cowboys all night, connecting on a number of key passes throughout the game.
Nothing seemed to be clicking for Abilene, as they were unable to get any momentum going. Unfortunately for the Cowboys, senior running back James Mayden suffered a knee injury right before the half.
"If we can focus on improving little mistakes, we can turn this thing around." – James Mayden
When asked about the struggles of the team, Mayden stated, "We just didn't have the right mindset coming in. We faced a really talented Chapman team that was probably more prepared to win than we were. If we can focus on improving little mistakes, we can turn this thing around."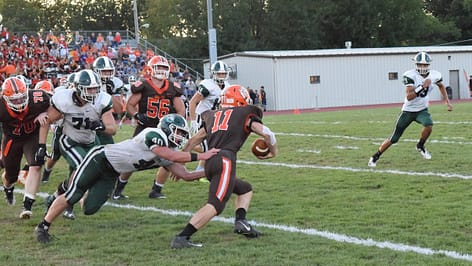 After being asked how to go about improving the offense after the shutout, offensive Coordinator Brad Hartman stated, "Not doing the little things correctly is preventing us from being consistent, offensively. One missed assignment can keep a play from working, whether it be lining up wrong or missing a block." The Cowboys will have a chance to correct little mistakes on Friday, September 21st at McPherson against a tough Bulldogs team.
View Comments(1)