Cross Country Dashes into Second; Third
The Abilene High School Cowboys and Cowgirls cross country team had a great start to the season at the very first meet in Abilene.
Aaron Geissinger, junior, shared a few words of how he felt before running and how he thinks the team will do this season. "I felt before running everyone was a little nervous, it was like everyone was a little confused, but we're going to try our best." Geissinger placed 8th overall at the event. "After running I felt like we are going to have a great season, because everyone is now ready, and they know the races, and they're just going to go all out."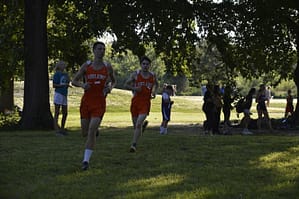 Geissinger was not the only Abilene medalist. In the high school boys division the individual medalists for Abilene were as follows: Lucas Cook, senior, placed 9th, Thurman Geissinger, freshman placed 13th, Damian Hartman, senior, placed 16th, and Austin Wuthnow, senior, placed 17th. Two other boys' runners placed just outside of medals; Cooper Wuthnow, freshman, at 21st and Mason Cook, sophomore, at 22nd. The boys team placed 2nd overall.
In the girls division the individual medalists were Sydney Burton, senior, 2nd, and Annie Bathurst, junior, at 7th. The girls team placed 3rd overall.
Allison Liby, a sophomore, shared a few words of how she felt the team would do this season. "I think the season will go great. We are improving very much."
With the first meet done and over, the Abilene Cowboys and Cowgirls will keep working hard to have a great season. The secondary team has a meet on Thursday in Holton, while a primary group will compete a team the Wamego super regional this Saturday.