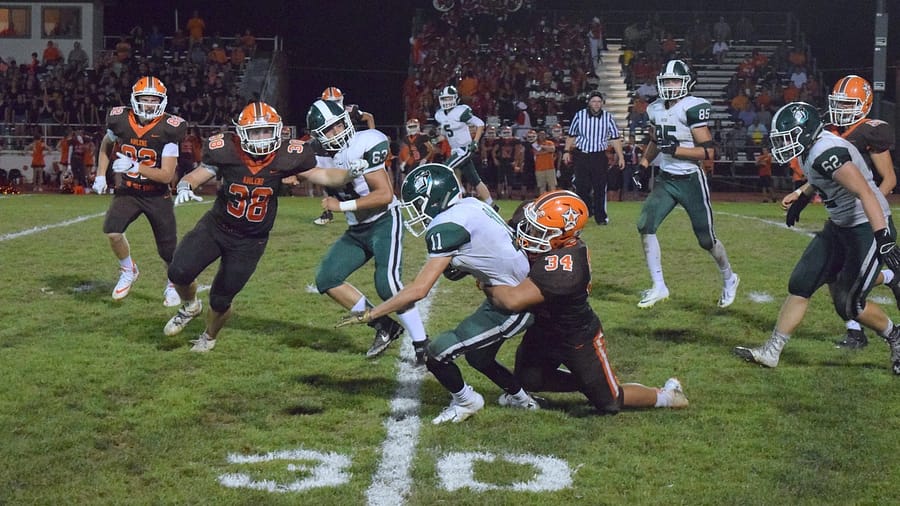 Unsung: Gabe Prater
Gabe Prater remains a bright spot on a Cowboy team on the up-and-up. Lucas Cook investigates the senior linebacker-tight end hybrid.
October 15, 2018
COWBOY STADIUM – The band preps its' final song as the Abilene Cowboys football team meets underneath the left goalposts. The blocky score of "0" rides beneath the insignia for the home team. Coach Steve Simpson gives his brief postgame speech before the downtrodden boys solemnly pose for pictures with members of the Cowboy faithful, even after the face of a scoreless defeat at the hands of rival Chapman.
Lost in the moment is Gabriel Prater. He still wears the brown and orange, striped 82 beaming from his chest and back. The typical receiver number is a bit of an odd choice for a linebacker, who at multiple times during his high school career doubled as a tight end for the Cowboys.
Slowly, after a handful of phone pictures, he saunters into the locker room to gather his things before he leaves. He has an English Comp paper to work on and a calculus assignment to finish before class next week.
<> <> <> <> <>
The Chapman game was an otherwise forgettable game for Prater, as well as for the multitude of other players on the Abilene roster. He helped make a few stops on defense before flipping the field and catching a pass from Jackson Randles for another chunk of yardage. Aside from that, Prater–and the rest of the Cowboys–were ineffective.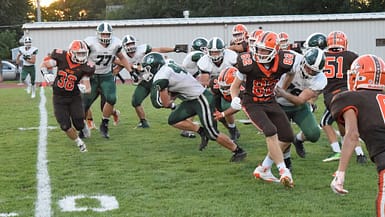 Where Prater differs from the rest of the Cowboy team is in his work ethic. He works on both sides of the ball, making him visible to nearly the whole team during practices. His teammates appreciate his hard work during drills, as well as his nose for the ball during the game.
Senior running back Dakotah Whiteley noted, "I don't see him a lot at practice, but the times I do he's practicing hard; giving everything his best effort."
Head coach Steve Simpson had roughly the same thing to write about the senior.
"Gabe has been very consistent on both sides of the ball and can play several positions. This is because he has worked at several positions. The key word is worked. I am proud of Gabe's improvement and leadership."
In the midst of a season in which improvement has been increasingly apparent, Prater's continued improvement forms an anecdote for the rest of the team.
Nothing quite shows his work ethic more than his efforts in the classroom. A steady grade-A student, Gabe is still in competition to be one of the higher placing members of the class, all while balancing his textbooks on his shoulderpads. "Yeah, it's been tough sometimes. Not getting home until 6:30 makes for some long nights doing homework," he noted in a text interview.
<> <> <> <> <>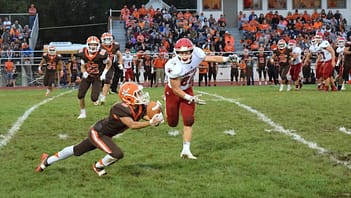 Gabe is naturally built to be a high school football player. He is listed at six feet tall and 180 pounds, with nearly unnatural speed and twitchiness from the box. He wields a wide wingspan that helps with both catching the ball and engaging with blockers. Technically, he is listed as a "receiver"–most likely due to his ability to line up anywhere along the offense as a weapon. Though he also makes a large handful of defensive plays happen indirectly as well.
It's more accurate to say the positions picked him than that he picked his positions. "I just work hard and let the coaches see here I can be the most useful," he said.
Prater previously played basketball for Tim Klein during middle school, and also had a brief stint as a post for the basketball team during his first and second high school years, utilizing his wide wingspan. "Gabe Prater's story is short of AMAZING of what he has had to conquer and will continue to conquer for the rest of his God lead life," Klein wrote in an email interview. "I coached Gabe in 8th grade basketball and his work ethic was country strong but it pales in comparison to the real story of what his journey has been to this point."
Prater was more or less forced to temporarily leave the athletics program due to his diagnosis of Crohn's Disease, a debilitating ailment that essentially allows the intestines to shred themselves.
"It pales in comparison to the real story of what his journey has been to this point." – Tim Klein
"Gabe's sophomore year during basketball he had serious health issues, became very sick, lost weight, energy, and was in extreme pain," Klein continued. "It was very disturbing to him and his family; to see him plummet physically for no possible reason. Finally diagnosised with Crohn's Disease, they got things under control enough to be back in school and get strong enough to compete in sports. He is having his best season since Freshman year. It has been a long haul in a short time but because it is Gabe Prater, surrounded by his family, guided by God, he is playing his Senior year of football at Abilene High School."
Tim Klein would know Prater's progression–he's watched the young man play football for the last few years as a color commentator alongside Trent Sanchez for K.A.B.I. The General, and is a member of the same church Prater attends. The massive amount of work he has put in over the last few years just to crack the lineup is nothing short of a shock itself. The fact that he continues to improve is something only Prater could have foretold.
<> <> <> <> <>
PITTSBURG, KANSAS – A two point victory for the Cowboys over Division-1 powerhouse Pittsburg-Colgan in a neutral site took the monkey off of the back of many of the players. Gabe had been a part of the defensive stand in the second half that allowed only 29 rushing yards on the part of the Panthers. Senior James Mayden took the chance to snap a picture of the team before the bus departed. Right up front was Prater, mind seemingly somewhere else. He had homework to finish that weekend, and that was what was taking up the majority of his mind.
That's not to say he doesn't engage in post-victory shouts and whoops and other frivolities with his teammates, nor is that to say he isn't a good teammate. Quite the opposite. Following a late-night victory over Field Kinley High School in Coffeyville one week later, Prater was right there with the rest of his team. "Everyone (was) super siked…the locker room was absolutely insane."
The victory catapulted the Cowboys into a 3-3 record that established the grounds for an exciting homecoming game against the Augusta Orioles in Abilene. "We're working pretty well as a unit but we still have some small things to fix. The most important thing is keeping our heads on straight and not letting this streak die."
<> <> <> <> <>
It is a bittersweet season for many seniors, as it would be for many high school players across the country. Many news and distribution companies, like the NCAA itself, point out that the chance of making a college roster of any division is less than 10% for high school athletes. Even with his efficiency on the field, it is very unlikely that Prater will find himself on a college roster next season, especially since he is considering attending Kansas State University (He recently attended an event at the Eisenhower Center in which he received a small scholarship to K-State). However, that does not seem to be that big of an issue for him. "I'm looking to major in Pre-Vet before attending the K-State veterinary school."
Gabe was asked if he wanted to end the season with a strong finish. "Yes sir, that's the plan." he responded thoughtfully.
Knowing where he's come from and what he's had to deal with to get to the point he is now, he wouldn't have it any other way.