Abilene Volleyball says Goodbye to Seniors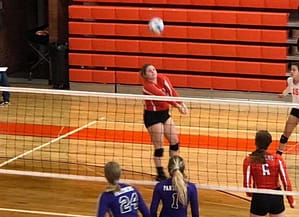 The Abilene Cowgirls finished with a respectable 24-14 record and showed tremendous determination throughout the season. Four seniors —Turner Alderson, Emily Burt, Maci Debenham, and Hannah Willey—stepped off the volleyball court for the final time on October 20th at substate in Pratt as they fell to Topeka Hayden in two matches, 25-20 and 25-18. Topeka Hayden had a strong team, as they returned members from the 2017 4A Dll state championship team.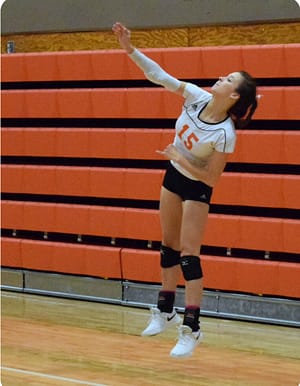 Three Abilene players were named all- league by the NCKL. Alderson and Willey were named first team all-league, while junior Beth Holmes was named all-league honorable mention. Head coach Mike Jantz believes that it is likely that Alderson and Willey will slide into some spots in the AHS record books.
Coach Jantz stated, "We progressed throughout the year and continued to get better. We were playing high-level ball at the end of our season, and that's what you want." Earlier this season, coach Jantz captured his 700th win.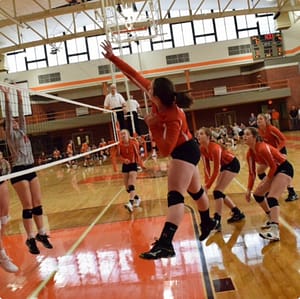 The Cowgirls will return experienced varsity players next year in juniors Holmes, Chesney Sprinkle, Autumn Fitzgeralds—all girls played solid and crucial varsity minutes for the Cowgirls this season.
When asked what she would miss the most about AHS volleyball, Alderson stated, "Volleyball has always been my favorite sport, so I will miss playing the game I love. I will also miss playing with my friends and the bond that we have created." Burt said, "I'll miss being with my teammates the most.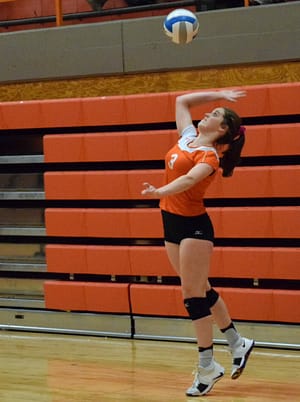 My favorite memory during volleyball is being with everyone and hanging out between games." Debenham said, "Honestly, the thing I will miss most about volleyball is James telling me that he loves me." Willey stated, "Some of my favorite things about volleyball were team jam sessions, team meals, and going to state my sophomore year. I already miss it."