Cowgirls Ready to Start the Season
Jayshaun Jones, Junior Staff Writer/ 5 Star Community Editor
November 12, 2018
The Abilene High School girls basketball team looks to improve this season from the one last year.  The Cowgirls had a pretty solid season last year making it to the state playoffs. Senior Hannah Willey is returning for her fourth season on varsity, her third year starting. Willey was asked how she felt about being a senior on a young team and what it means to be a veteran, and what her goals for the team was, She responded by saying, "I'm very excited to have the opportunity to lead a young team. I think it will be cool seeing growth throughout the season. I just want us to work hard and get better everyday!" Hannah being one of the few seniors on the team will for sure have an important role in leading this team to success. They are losing a few key players this season that were huge factors last season.
Key players that will be missing are Junior Shiann Olberding, and Senior Maci Debenham. Debenham has been on varsity since she was a freshman as was Olberding. Why they would decide to not play this season is beyond anybody. Olberding was one of the teams leading scorers last season. The 5'10 forward was a key in the teams success as she averaged more then 10 points per contest. She didn't start but she provided valuable minutes coming off the bench for the Cowgirls last season.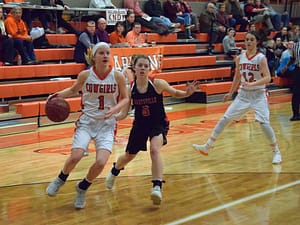 The Cowgirls went 13-8 last season. Starting out on fire as they went 4-1 through the first 5 games of the season. That went 5-4 for their district last year, losing to division rival Clay Center both times they played. They only played long time hated rival school Chapman High once last season and won in a nail biter 45-42 at Chapman. The Cowgirls then rolled through the season winning games here and there. They ended up making to the Sub-State Championship against Circle High out of Towanda Kansas.
Needless to say the cowgirls are disappointed at the way they ended last year's season. Especially since they started out on fire through the first 10 games (7-3). They suffered the same fate as the Cowboys losing to Circle in the end. Those darn Thunderbirds really got us. Expect to see the Cowgirls to compete with a HUGE chip on their shoulder this season.