Wrestling 2018 Preview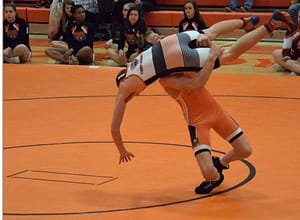 As winter sports come around, wrestlers look forward to participating, and making the best of this new season. As freshman come in to get their chance at wrestling, we also recognize past wrestlers, and welcome freshman.
Freshman Luke Burleson talks about how he thinks this team will do, and how who he thinks might have the best turnout this season.  "I think we'll do pretty good, we have a lot of good people, I think either Kaleb Stroda, or Will strode, will have the best turnout, because  their is a lot of expirenced wrestlers that came from the middle school, and high school. The wrestlers had a good season last year, and hope for a good season this year.
As we welcome new wrestlers, from the middle school now freshman, we also recognize that a lot of them mhave previous experiences with wrestling through middle school, and even when they were younger.
The team looks forward to this season and has has high hopes for a good turnout. As old wrestlers come back for another season, and new ones join the team, they hope to do good in their weight classes, and hopefully set some records.