AHS Jazz Band Tour of Schools
The AHS Jazz Band consists of 18 students under the direction of Aaron Tompkins. The students are: Seth Bielefeld (trombone), Calan Brown (trombone), Laryssa Brown (trumpet), Emily Burt (saxophone), Alyssa Harwood (trombone), Alyvia Johnson (trumpet), Robbie Keener (guitar), Keenan Melton (saxophone), Jacob Mohlman (percussion), Caden Powell (trombone), Titan Steele (trumpet), Nathaniel Tompkins (saxophone), Claire Weishaar (bass), Grant Weishaar (percussion), Jackson Welsh (piano), Cayden West (trumpet), Dawson Whalen (bari sax), and Josh Young (saxophone).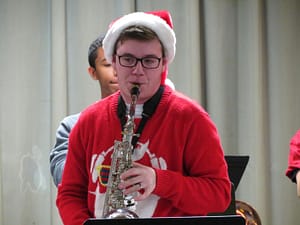 On December 12th, the jazz band went to Kennedy, McKinley, Eisenhower, St. Andrews, and Abilene Middle School. The ensemble played four songs: Go Tell it on a Mountain, O Christmas Tree, We Wish You a Merry Christmas, and Angels We Have Heard on High. Some students had solo breaks, where they performed improvised pieces. The band also played these tunes at the winter band concert on December 16th for the public.