Barbieri's astonishing performance wasn't enough in loss
December 7, Friday afternoon, the Cowboys tipped off against the Augusta Orioles for their third game and most competitive game yet.
"I just do cool stuff to try and hype the students and the fans up" Timmy Barbieri had a game high 24 points and tried his best to keep the cowboys perfect on the season, as everyone knows the cowboys have high expectations for this season. they just looked like they're trying to figure things out. as foul trouble keeps becoming a problem fo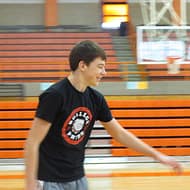 r multiple players. there is not only negatives to look at for the  2 and 1 Cowboys.
Tthe coaching staff is very confident in this group of boys.  "Augusta is good, and we weren't ready. If we learn from it, it will be worth it. If not, we will continue to get exposed but good programs." Says Eric Graefe assistant coach of the cowboys.   Freshman Kaleb Becker has showed out and has contributed to the cowboys off the bench along with a powerful second group, which includes Avery Bryson, Wyatt Davis, Colton Mcvan, and Josh Stuber. Scoring is not a problem for the cowboys as they having multiple people who have scored in double digits for the team in different games.
Outside of the starting 5 the team is very young and have a lot of growing and learning still to do.  As this team grows and bonds they will have a chance at being pretty special. The A

bilene Cowboys travel to Concordia on Friday to face the 1-2 panthers in a league game.