Cowboys Cruise By Clay Center
The Cowboys put the NCKL on notice once again.
Terry Taylor's scorned Cowboy squad took another victim on Friday, January 11th, as they smothered the Tigers of Clay Center 61 to 37.
The Cowboys scored fast and often, taking advantage of a Tiger team that was vastly undermanned and consistently out-jumped and out-played. So vast was the talent gap that the starters for the Cowboys–James Mayden, Preston Boyd, Travis Beetch, Tim Barbieri, and Wyatt Davis in place of Damian Hartman who was out with foot soreness–were only in the game for a few minutes at a time before giving the backups some rest.
The Cowboys finished the day 16-for-21 at the free throw line, and despite nobody hitting a higher percent of their shots than 62%, they still managed a 24-point victory while pumping the brakes for the entire second half. Starting the game 17-7 and then 35-11 definitely helped the 'Boys, who allowed themselves the reprieve in the second and play many backups. The Tigers tied the 'Boys' second half score, but never overcame any of that 24 point deficit. Once the rout was on, memories of Concordia set in for the boys in brown and confidence soared. Clay Center, much to their credit, did a fantastic job in the second half, but didn't have a chance due to their lack of athleticism and overall lack of height on their roster.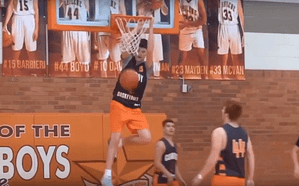 Grant Heintz, a six-foot-eight sophomore, closed out the game for the Cowboys. He grabbed three rebounds in limited time and scored a bucket.
Senior Colton McVan led the team in points with 12, including a three pointer. Three-pointers seemed to be a family affair, as younger brother Blaise, sophomore, added two more for a total of six points to his name. Preston Boyd, despite not being on the floor for long, earned a handful of rebounds and ten points himself. Sophomore Avery Bryson and freshman Kaleb Becker were behind him with eight and seven points, respectively.
"We let up some points in the second half," head coach Terry Taylor told the team in the locker room after the game, "we've got to be ready for next week."
The Cowboys will have a short break before the Salina Invitational Tournament begins. The 'Boys plan to ignore a forgettable run in Salina last year and complete this year's run on the podium. They were given the number one seed and will play against popular upset pick Salina South, who was without a couple superstar players for the first half of the year. They will have them both for the first game against Abilene in their own gym at 8:15 on January 17th.