The Doctor Weighs In
Justin Clark works in the last place a high school athlete wants to find themselves in: a training room.
The doctor's office is a bit unorthodox.
There are no visible stethoscopes, x-rays, or tongue-cotton-balls. There is, however, an ice machine in the back corner that whirs to startling life every handful of minutes, and numerous pictures on the wall displaying bones and muscles many high school students didn't know they had until they had pulled or strained them. A water-trough on the back wall is filled with ice water occasionally. Different pieces of cowboy memorabilia sit behind a laptop on the desk across from two stretching tables. Underneath both tables sit canisters of CO2 and rolls upon rolls of ankle tape.
This is not the doctor's office of a world-renowned surgeon. This is the doctor's office of Justin Clark, Abilene's resident physical trainer. And he's seen a lot of activity over the last few weeks.
<><><><><>
His workplace is by no means consistent.
In the fall, he has a split office–he spends his time during and immediately after school in his office by the trophy cases in the atrium. However, once football practice starts, he shifts to the football training room in the locker rooms at Cowboy Stadium. There he may be seen surrounded by volleyball players with iced knees, cross country runners with taped and rolled ankles, and football players in the ice bath peeling athletic tape off of their ankles and wrists.
Oftentimes, however, his workplace is at the point of practice and play–the turf of Cowboy Stadium, the rolling hills of Great Life Golf Course, by the arch of AHS Gymnasium A, the vivid forest green of the tennis courts–and wherever he is needed.
"He helped me by putting me on different treatments to see how my muscles would react and see if it would stop the swelling or pain," said cross country runner Megan Anguiano, who suffered a season-ending injury at the onset of her senior season and spent most afternoons in Justin's office. "At first we originally only did icing, then we realized that ice wasn't helping so we did ice and e-stem therapy, which basically was little pads that would send messages to nerves to relax." Eventually, she was pulled from the routine and attended early morning physical therapy, which Justin oversaw.
"I really appreciated the work he did to help me throughout the season, even if I didn't get back to running." Megan said. "Most of the goal was to get back in shape for track season." As of press time, Megan is 100% for track season.
She was also not the only cross country runner that was overseen by Justin, as many visited with him at least once during their tenure. Other cross country runners have visited with Justin during the last season as well. One prominent face was sixth man Mason Cook, a sophomore, who faced a caved-in arch on his feet that he fought for a majority of the season. Justin offered two foam inserts for Mason's feet, which gradually assisted to Mason's running ability throughout the season. He was a member of the final varsity lineup that competed at the regionals meet in October.
The sidelines have Justin as a familiar face. During football games, he is seen by Abilene's sideline with a table and a few pieces of gear. Regularly during games, players will visit the table to check cramps, sorenesses, and swellings. He waits by the hallway of the boys' locker room during basketball games, his signature ballcap standing out amongst the other bystanders and officials, surveying the courts for any injury to a Cowboy, Cowgirl, or any athlete from another school. Other times he drifts between athletic events.
In the winter, basketball fills his schedules, although wrestlers occasionally find themselves on the padded tables. Sometimes he will even visit with the occasional cheerleader–injuries with cheerleaders are more populous than one would think–but that doesn't occur as often as the national statistics would say. In that regard, Abilene is very fortunate.
Coach Taylor and Graefe of the basketball programs both expressed their gratitude that Justin helps out with the training issues that their men's basketball players experience. Earlier this season, senior guard Damian Hartman left a game versus Wamego a few times with muscle soreness and tightness in his back. He left, taking a quick detour through Justin's room before returning to limited action to finish out the game. Senior post Preston Boyd is regularly taped.
His work slows down in the spring, for whatever reason. He hypothesizes that the lack of injuries is because of the lack of contact sports between tennis, golf, baseball, and track and field. That doesn't stop therapies with track runners and throwers, as well as taping certain athletes.
Possibly the most telling sign of Justin's influence in the school athletic community is a simple phrase: "Go see Justin." Requested by coaches from Burton to Simpson, it's easy to see how much trust the coaches have in Justin. To finally have his own office is something new to him also, as his old office used to be in the glass house by the basketball court. This new office was part of the mid-2010's effort to add the atrium and new auditorium to Abilene High School. His new office, which has direct connections via a short hallway to the basketball and volleyball court, was just a perk with that.
<><><><><>
Justin has been working in the medical training field for Abilene for thirteen years.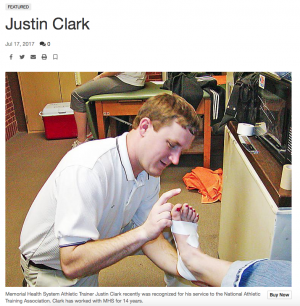 "When he first started, there were very few non-suburban schools that had regular athletic trainer services," said athletic director and vice principal Will Burton. "We were very fortunate to have (Memorial Hospital physical therapist) Jeff Sanborn and (former CEO of Memorial Hospital) Mr. Mark Miller have the vision to bring athletic training to Abilene." Before becoming the athletic director, Mr. Burton was formerly a coach himself, facing a multitude of athletics injuries.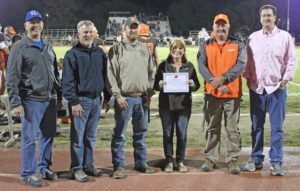 Despite working closely with the school's athletics program, Justin also sees a lot of work in other medical services. 2017 saw him earn an award recognizing his service to KATS (Kansas Athletic Training Society) from the National Athletic Training Association. In 2016, Memorial Health Systems honored him for 10 years of service within their organization. In 2014, he was elected to serve on the Kansas Athletic Trainers Society Executive Board. On October 19th, 2018, Justin and the rest of the Abilene Training Staff received the National Athletic Trainers' Association (NATA) Safe Sports School award for their work with the Cowboy football program. In order to receive that award, the staff had to complete or meet multiple requirements that showcased Abilene's high standard of health and injury prevention and recovery amongst its athletes and students.
"The impact has been widespread," Mr. Burton continued. "Treatment for short term or chronic injury, rehabilitation monitoring, on-site injury evaluation when present, stays current on medical treatments, less stress on coaching personnel who are not trained medical providers, and a certified trainer of CPR and AED use."
Mr. Burton expressed his confidence in Justin, saying, "I am confident that having athletic trainer services has allowed many athletes to return to play faster and more healthy in comparison to not having services. If Mr. Clark cannot determine what is wrong or doesn't have necessary training to help remedy an injury, he is well versed in and can communicate to the next level of medical personnel what he has tried and believes might be the issue."
<><><><><>
The impact Justin has had on the sporting community in Abilene is massive, even if not obvious. Most athletes in the high school have at least visited with him, if not worked with him.
It definitely helps that the athletic director is in his corner.
"Most definitely he has been a tremendous asset when it has come to concussions and Return to Play protocols in helping ensure we are in compliance with state law and that our student athletes are being treated through best practices in dealing with concussions," Mr. Burton continued.
That Return to Play protocol is the same that has been enforced throughout the school years, as well as across the state and country. This protocol takes in several factors of concussions and concussion related symptoms to help student athletes recover from their concussion and return to the school environment before competing as an athlete once again. Per the state, Justin is one of the better trainers with extensive knowledge of the protocol.
In many ways, Abilene High School is incredibly lucky to have Justin as their athletic trainer. Having him here to help the students is just one way he has found to make the school a better place for athletes.
Leave a Comment