Cowboy XC Takes Win at Beloit
October 17, 2019
On Thursday, October 3rd, the Abilene cross-country teams traveled to Beloit to compete in one of their last meets of the season before state.  
Grant Waite, a freshman at AHS, was one of the few among the winning team. When asked about how previous meets have helped the team improve, Grant replied, "Each meet is a little different. If there are hills in one, we'll focus on running hills in practice. If there is a flat course, we'll focus on good times and working to get all of our miles down to consistent times."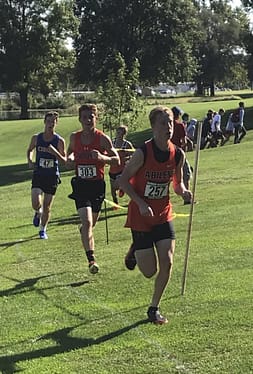 After talking about the meet, Waite was asked about what they did to prepare for it. "We practiced mile repeats to help us work to get all of our miles down to the same times because previous meets were not very good." Waite is confident in the team's performance as NCKL and state rolls around the corner. 
Overall, the Cowboys placed first in the meet. Among the winning team were freshman Grant Waite—5th, senior Aaron Geissinger—10th, sophomore Thurman Geissinger—15th, senior Austin Mather—26th. 
After being out for the past few meets, senior runner, Annie Bathurst was excited to get back on the course. "It felt really great to run instead of just cheer. I was glad I was able to support the girls while I was out, but it was really nice to accomplish running a few miles. It didn't feel great because I was still physically hurting, but I definitely felt like I accomplished something." Bathurst commented.  
The Cowgirls might not have won the meet, but according to Bathurst, a lot of the girls were able to improve individually. "As a team we did really well. For a lot of us, it was our first meet back after taking a little rest to recover. Bailey Rock ran a great race and Alice Bathurst improved her time a lot. The course is always really nice and there was a lot of PR's. I know that Alice was able to run a little bit better than she normally does because we were able to run as a team and push each other."  
The Cowboys and Cowgirls cross-country team travel to Ellsworth for their last regular season meet on Tuesday, October 8th.