Halloween Horrors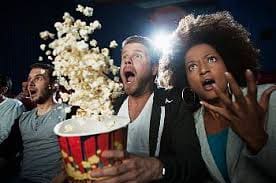 October is a very spooky time of the year, full of haunted houses, candy, and one of the best holidays: Halloween. But one of the best parts about Halloween is having some snacks, sitting down with your friends, and watching scary movies. Old and new, there are a lot of scary movies that come to mind this month, so here is my top eight: 
The 

S

hining

– 

Jack Torrance brings his family to Colorado to be a caretaker 

of the isolated overbook hotel in hopes to cure his writers block. As the family is staying there, a lot unravels and they find the deep dark secrets of the hotel. This is a

lso a 

real life

hotel so if you're ever in Colorado and need something to do this is your spot.

A 

H

aunted House

– This is a parody of Paranormal Activity. It still tops our list as a great scary movie because you also get a great laugh. Marlon Wayans stars in this as

Malcom. Since this is a comedy, it comes with a price. The movie is rated R viewer discretion advised

.

Us-

This is on

e of the newer movies on this list as it came out in 2019. A

family goes on vacation and they're later encountered by a family that's a copy of them. They end up seeing a lot of families being copied and are trying to survive.

This movie is just the right amount of weird and scary. 

It-

T

his scary movie took the worl

d

by storm in 2017, as its an 86% on rotten tomatoes.

A group of bullied kids come together to destroy a clown, which preys on the children of their small town. All I have to say is if you

are scared of

clowns and want a good scare, this is the movie for you.

The Conjuring- 

 

This family moves out to a new farmhouse. The members of the household call in p

aranormal

investigators and de-monologists

because the mom gets p

ossessed. The conjuring topped my list at 5 due to the popular vote.

The Conjuring is a big hit when you are looking for a movie to watch with friend

s.

Paranormal

 Activity

– 

 

Soon

after moving into a new suburban house, home owners

K

atie and 

M

icah start experiencing p

aranormal a

ctivity. Hoping to settle their minds, they

set up cameras. They were not ready for what is found on the tapes. This comes in at 6

because it is a must watch, but also is 

o

ver

 

watched.

I

t

 

is

 

really

 

e

mbar

r

assing when your parody comes in higher on the list than you.

Scary Stories to Tell in the Dark

–  

This

 movie released in 2019 and was one of the coolest 

movies I have seen in a movie theatre today. Stella and her two friends meet a mysterious drifter, Ramón, and uncover a sinister notebook of stories, which ends up coming to life. I rank this as 7 because it is not as known as the rest of the movies on the list

. This is a must watch, you will not be 

disappointed

.

The Cabin in the Woods

– 

The Cabin in the Woods premiered in theaters in

2011 

,

 this movie was about a few friends who went to get out of town on vacation, little did they know 

what was going to happen.