How to Maintain your TikTok Fame
TikTok is taking over. Just about every student here at AHS has watched at least a few TikToks before. Some have downloaded the app just to watch TikToks and some have downloaded it to make TikToks. Maybe you started making videos as a joke but suddenly you became "TikTok famous". Well, congratulations! But how will you keep this new status?  
Here at AHS, TikTok fame is a realty to few students. One Abilene High School student with a very popular TikTok page is sophomore Sarah Cooper. 
Sarah has had TikTok for about a year now, however she didn't start posting until July. Her second video that she posted was about a camper that she got for her birthday that she decided to remodel. Her first few videos quickly went viral. 
Sarah now has 26.6 thousand followers. She tries to post once a week to keep all her followers. "When I'm not active, I lose followers," she added. 
Being a TikTok star, not only has Sarah's TikTok page blown up, but she has also gained plenty of followers on Snapchat and even a few on Instagram. "It's weird [being TikTok famous] a little stressful even. Every post has to be good because the whole school could see it," she said.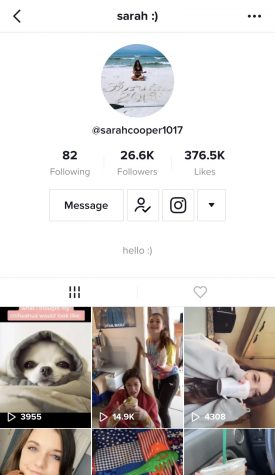 Now, can you handle TikTok fame? Here are some tips and tricks for all you famous TikTok stars!  
First, you should decide what type of videos you are good at making. There are plenty of options to choose from. Some very popular genres include dancing, singing, comedic, challenge, how to, story times, and point of view videos. 
The sounds you use for your videos are also important. Using a popular song or sound appeals to a larger audience. An especially catchy song will also help. 
Also, make sure to use hashtags when you post. Using a popular hashtag will guarantee a higher amount of views. The more views, the more likes and follows. 
Good luck on your journey to TikTok fame! Have fun!