Abilene Schools Resort to Remote Learning
The email from Superintendent Greg Brown was sent out at 1:32 PM. This was no regular email however, for within this email was the fate of a grueling decision: whether or not USD 435 would resort to remote learning.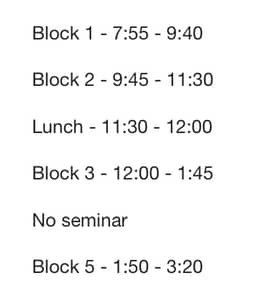 The final verdict ruled in favor of remote schooling spanning for the following two weeks. Upon this decision, all activities are to be suspended for that time period. As opposed to the remote schooling that students experienced the year prior, students are required to check into every class via Zoom. If a student fails to check in via Zoom, they will be counted absent (unless communicated otherwise). Zoom calls will coordinate with class schedules (see photo on right for reference).
Many sports were put on hold due to the sudden decision. The cross-country teams were scheduled to compete at Southeast of Saline, while the football team was scheduled to travel to Lenexa to take on Christ Prep. Meanwhile, the Volleyball team was scheduled to take on the
Chapman Fighting Irish. However, extra time is what fills the sports schedule instead. Extra time doesn't always have to be dead time. Sophomore Cross Country runner Grant Waite responded, "If we want to improve and reach our goal, it's going to become a mind game. It's all about training your brain keep practicing as normal … times like these are where true athletes come out." Which all in all something all athletes should strive for.
Numerous other activities are being delayed by the two week quarantine period. One such activity includes the AHS Fall Musical. Many kids put lots of blood, sweat, and tears into performing a great musical, and for it to be delayed is nothing short of heartbreaking. "I was sad at first, but I felt more respect for the leadership. I believe they know what is best for the prosperity of our show." said Junior Naomi Dannefer when news of the cancellation broke ground.
All in all, this cancellation hurt a lot of hearts, and essentially took away from seasons that had great growing potential. However, we can use this opportunity to grow. We can grow as athletes, actors/actresses, students, and even as people. The key is to not stand still in the face of adversity. You've got this AHS!
View Comments(1)
About the Contributor
Thurman Geissinger, Editor-In-Chief
Thurman is a junior at AHS. This is his second year with the Booster. Thurman runs Varsity for both the cross country and track teams. He is an avid fan...