Debate Team Continues to Compete Virtually
Last school year ended abruptly, causing many extracurricular activities to be canceled or moved to an online setting. When thinking about a competitive atmosphere one might draw their eye to well–known competition such as, football, basketball, cross country or volleyball. But such activities that aren't typically in the spotlight are the debate and forensics teams.  
Last year before schools shut down in Abilene, Coach Blair Waite had a few competitors who made it to the 2020 National Speech and Debate Tournament. The competitors were, now sophomores Gabby Guillen and Dighton Tokoi, and 2020 Graduate Luke Hager.  This was a huge accomplishment and yet it was a bit under-recognized since school was not in normal session.
At the national level, Gabby competed in World Schools Debate and Poetry while Dighton took part in Humorous Interpretation, Pros, and Prepared Prompt. Meanwhile Luke was a part of Student Congressional Debate, and Prepared Prompt.
After that excellent finish, returning students came into this school year with high hopes.  Debate will compete online this year, and it seems like the students are taking it in stride.  Forensics competition begins later in the year.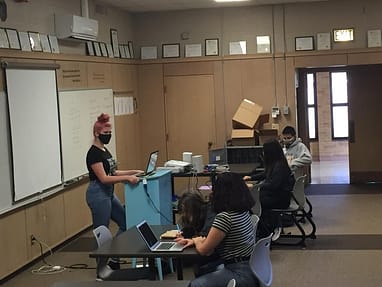 While Gabby Guillen and Junior Dylan Delay have had a slow start at 2-2, if they score a 2-2 record in more tournament they will qualify for state. While Rebecca Gale, Samantha Henry, Miqueas Mazo, Jonathan Stanger, and Avery Anguiano are still waiting to get their feet wet in this year's debate season.
The JV team has already spoken up on how they will compete in upcoming tournaments. With Freshman Judah Bowell and Sophomore Evelynn Ediger leading the way with a record of 6–2, Judah said, "Throughout the difficulties Evelynn and I are ready to take whatever comes after us because even with our two losses we still kept up with them." Fellow sophomore teammates Jude Long and Kate Urban follow with a record of 4-4.  Sophomore Nathan Carpenter and freshman Luna Weis have a record of 2-2.  
With the Debate season in full swing, there could be more names that come up and that are starting to make a name for themselves. So watch out and make sure you keep an eye out for this young but experienced team.