Seniors Say Goodbye to Classes
Wouldn't it be nice if you only had to take two classes next semester? Imagine going to school every other day for about three hours.  This option will be available starting this year for the senior class.  According to Dr. Smith, seniors in the class of 2019 who are on track to graduate will have the option to take only English and Government—with a few exceptions.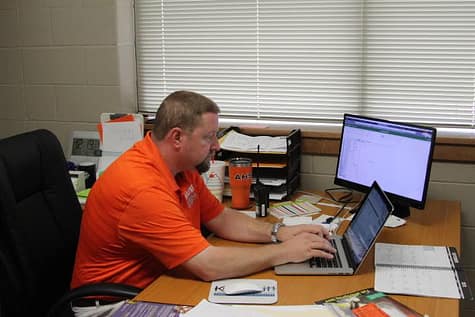 Dr. Smith made a request at the school board meeting in August to allow Abilene High  School to try a pilot program for one year.  After he got confirmation from the board, he announced it at the senior meeting in August.  Smith stated, "I wanted to provide the option of letting seniors choose what they want to do in the spring of their senior year."  This program is for seniors who already have enough credits to graduate.  Essentially, seniors on track to graduate after first semester will only be required to take two classes.  Although, if a student is in a career pathway or in a performing arts class, they must stay in those classes.  Also, students who participate in extracurricular activities—sports especially—must be passing five classes to stay eligible, so they will need to keep five classes in their schedule.
There will be many positives to providing this option for students who have earned the right to decide what they would like to do in the spring of their senior year.  Dr. Smith declared, "This gives seniors the chance to take college classes, get a job if they would like, and it just gives them a little bit of freedom."  Smith also explained that it is possible that some students might have situations where they must provide for their families.  This option will ensure that students will have more time to do what is necessary for themselves or their families without worrying about doing lots of homework for six classes that they don't really need.
There will be no effect on scholarship consideration because students are typically considered with their first seven semesters of high school.  By December, seniors will have completed all of their classes and acquired the GPA used on scholarship applications.  It has   not been thoroughly discussed how to determine the success or failure of this pilot program, but if it is too big of a burden on counselors or students fail to graduate, the program will most likely be reconsidered.
Many students seem to be excited about the change because it gives them the freedom to do what they want to do. Senior and Student Council President, Jackson Welsh, exclaimed, "I think it's a  good idea.  What's the point of people being here for no reason?"  Another senior, Bret Ambrosier, said, "I think it's a great idea because it will help me prepare for college and give me some more freedom."  The viability of this program will depend on the test run with this year's senior class.  While there is controversy about the positives and negatives of this program, one thing is for sure—students who have earned the right to make this decision will be granted a great reward for all of their hard work.