Cowboys lose Espinoza in loss to Concordia
The Abilene Cowboys lost their home opener to Concordia Friday night in a 14-6 defensive battle that saw the loss of senior Danny Espinoza due to injury.
'It's a huge loss for the team."
On only their third offensive snap, the Cowboys lost senior wideout Danny Espinoza to a severe ankle injury. "It's a huge loss for the team. One of the best D-Backs and one of the better wide receivers on the team," senior running back James Mayden said. Senior Javondre Flannery replaced Espinoza and recorded an interception.
After Espinoza was carted off of the field on a stretcher, the Cowboys seemed dazed and out of the game. The Panthers drew first blood late in the second half with the first touchdown of the game, quickly followed by a Jackson Randles scamper into the end zone. The junior quarterback played well, but was forced to run often due to a heavy backfield presence from the Panther defensive line.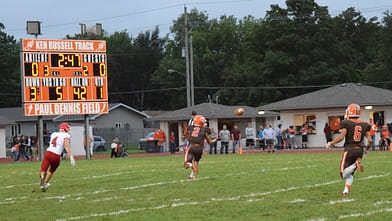 The game ended with the Cowboys being unable to respond to the Panthers scoring late again.
The Cowboys will try to bounce back next week against the surprisingly resurgent Chapman Irish in what could be one of the last clashes between the two historic rivals.
Espinoza photo courtesy of Jacob Isaacson.