Coach Berry – Teacher, Coach, and Shoe Lover
Photos: Dave Linn, Kylie Coup.
Megan Berry is an American Government teacher at AHS that many students, unfortunately, don't have the opportunity to get to know until senior year. Of course, members of the girls' tennis team are coached by her and get the chance to spend the fall sports season with her every day after school. Other than seniors and Cowgirl tennis players, many of the students at AHS don't know Ms. Berry very well, sadly. One of the most unique and intriguing things about Ms. Berry is her love for shoes.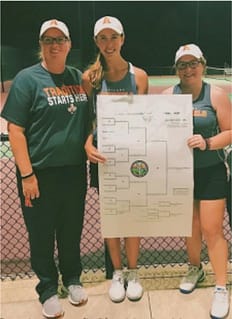 Ms. Berry was born in Salina, Kansas and her birthday is on April 4th. She grew up in Lindsborg and created many fond memories in her childhood—playing sports, family get- togethers at holidays, and the opportunity to travel. She is very thankful for the opportunity to travel as a kid, stating, "My parents gave me the opportunity to travel and see a lot of new things which I really appreciate now." She has only one sibling: a younger sister who now lives in Wichita. Berry attended Smoky Valley schools through her sophomore year, then she moved to Abilene to attend AHS for her junior and senior years. Her love of sports from a young age continued to be an important part of her life, as she played tennis, basketball, and softball in high school. After graduating high school in 2002, Berry attended Kansas University for her undergraduate degree in education. Ms. Berry's love for sports followed her to KU, where she was on the rowing team. She said, "I played sports because I loved competing and working hard to be the best I could be. Plus, being a Division 1 athlete had some pretty awesome perks."
Ms. Berry began her teaching career in Abilene and found a job coaching girls' tennis: a passion that she's had for most of her life. Berry explained, "I coach tennis because I love the game and love helping the girls become better players. Competition is fun in whatever role you're participating." In the 2018-2019 girls' tennis season, Berry has coached duo Shiann Olberding and Kylie Coup to state, as well as Zoë Cooper in singles competition.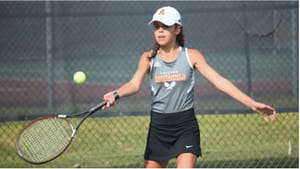 Aside from Ms. Berry's love for sports, she also has a knack for shoes. When asked what her favorite pair of shoes is, she stated, "Picking a favorite pair of shoes is an impossible question for me, but I just got a pair of the triple white yeezy's that I'm liking. I also like a lot of the retro stuff that both Nike and Adidas have been releasing recently."

Senior tennis player Brenna Riffel added, "Ms. Berry has one of the best shoe games I have ever seen. She always seems to find the newest, trendiest shoes, and she definitely has the coolest shoes of any coach at any meet."
All in all, Ms. Berry is one of the coolest teachers, coolest coaches, and coolest people walking the halls of Abilene High School.