Cowboys Fall Late in Fourth
The Abilene Cowboys returned to their home field on Friday, October 12th to face the Augusta Orioles. Unfortunately, the Cowboys fumbled away the game late in the second half, falling 34-27. This loss drops the Cowboys record to 3-4 on the season, and creates the improbability of hosting a playoff game. The Orioles outscored the Cowboys 20-0 in the fourth quarter and as the final seconds ticked off the clock, the Cowboys found themselves hanging their heads in a sickening defeat.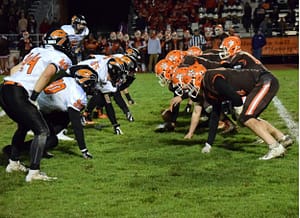 The Cowboys played fairly evenly against Augusta during the first half, but dominated the third quarter. This gave many the impression that Abilene would secure the game with no problems. When asked how important the game against Ulysses will be, senior running back James Mayden stated, "I feel like this coming Friday will be a very big game for us. The way we decide to practice and play will decide how we perform in the playoffs. We will need leaders to step up. Expect a good game from us."
Offensive coordinator Brad Hartman agreed, stating, "We strung together a couple wins recently and the kids were feeling good, but then lost focus in the 4th quarter Augusta and let that game slip through our hands. We need to be focused in practice and each guy needs to work on ways to improve individually, which will benefit the team as a whole."
Senior cowboy fan Bret Ambrosier stated, "I was disappointed with the mistakes in the fourth quarter. It was a sickening feeling because the game slipped out of our hands. There wasn't much to cheer about late in the game."
The Cowboys will have a chance to get things back on track with their home game against the Ulysses Tigers on Friday, October 19th.