Cowboy Basketball 2018 – Preview
The Abilene Cowboys have a new basketball season ahead of them, having high expectations coming from their varsity starters last year, seniors James Mayden and Preston Boyd and junior Travis Beetch.
"We're going to be pretty good this year…we've got a lot of good senior leadership," said Travis Beetch.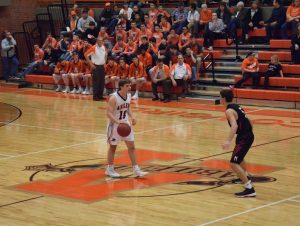 "I think we are probably the best team in the state and could give Biship Miege a run and bring home a state title," said senior Tim Barbieri. Tim has very high hopes for his team this year, hoping that the Cowboys can bring home a state title for the first time in 26 years.
The underclassmen are excited to have a good senior team this year. The seniors being Mayden, Boyd, Barbieri, Damian Hartman, Wyatt Davis, Christian Stevens, and Chase Mason. The team is excited to see what they can do with all the seniors this year.
Recently moving back to Abilene is Chase Mason, a 6'3″ small/power forward. Chase plans on bringing a lot to the table for the Cowboys. "I plan on doing dirty work like rebounding and contesting shots and whatever coach needs me to do," Mason said.
The Cowboys will have a scrimmage from 5 to 7 p.m. on the 26th of November to kick off their season.