Coach Bill Snyder Retires from Kansas State Football; Impact is Felt in Abilene
In 1988, Kansas State University as a whole was floundering.
A charter member of the dying Big Eight Athletic Conference, the agricultural school found funding in a constant decline. The city/town of Manhattan more resembled that of a slightly smaller Salina, surrounded by the Flint Hills and not much else. Student admission rates were declining. At the least, Kansas State was scheduled to drop to a Division II school. It was more likely behind the scenes that the school was on the brink of death itself.
The athletic department of the university was named the one at fault. Despite the occasional successful basketball program, K-State was the poster child for futility. So much so that Sports Illustrated ran a story in their magazine titled "Futility U"–an analysis of Kansas State's failures and gaffes.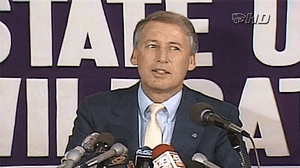 Then along came a thin, funny old ex-Spanish teacher from Missouri who had previously been an assistant at the University of Iowa under Hayden Fry. He famously was told to avoid the university at all costs, only accepting an interview for the position after K-State's athletic director himself drove to Iowa City to drive the unknown coach to Manhattan personally.
Bill Snyder then proceeded to create "the greatest turnaround in college football history", as he promised in his 1989 introduction press conference attended by less than ten people.
The narrative has been spread so many times it seems almost like an old wives' tale or a fable: Bill Snyder took the worst team in the nation and consistently took them to college football's peak. To put it into perspective; most Abilene High School students' parents were in high school or just beginning college when Bill Snyder first accepted a job at Kansas State almost thirty years ago. K-State was the size of a community college and football players hid themselves from fellow students in the week following the games where they would be humiliated by traditional Big Eight powers like Nebraska, Colorado, and Oklahoma. For years and years, a single victory was considered a winning season.
K-State is on record as playing high schools, barely beating the likes of Chapman and Manhattan before losing to community colleges that don't exist anymore.
Now, K-State's stadium–named after the man who walked the sidelines for 27 seasons, with the word "Family" honestly engraved in the middle–seats 50,000 fans (and is on record for allowing in almost 4,000 more in one specific game). Highway 177 bears his name. K-State itself is a prominent national college, with thousands of dollars being poured into its' science and education programs every year–on top of their already nationally exalted engineering and agricultural programs. They rival the doctor's school a few miles to their east in every department–and dwarf them in others. All thanks to the public eye and success that Snyder gave them.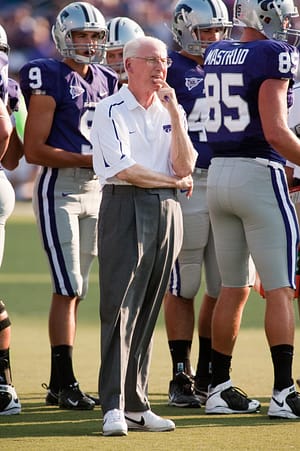 Current Abilene weights' teacher Steve Simpson, himself the head coach for Abilene's football team, weighed in on Snyder's impact. "No one has done more for Kansas State, and I don't just mean football, in the last 30 years than Coach Snyder.  You could even argue he has done more for Manhattan.  There was never the kind of excitement for Purple Pride as what he brought to Kansas State."
Manhattan's change is arguably more stark than the university's. It now boasts one of the nation's best college towns, with almost 50% of the population being made up of college students. The city truly has grown around the university, and a lot of that has to do with Snyder's success.
Kansas State alumnus and current principal Will Burton thinks fondly of Coach Snyder. "Coach Snyder's first season as head football coach in 1989 coincided with my freshmen year at K-State. The state of the program was in bad shape.  I remember that student season tickets were something like $40 for football and $125 for basketball or you could get both seasons for $125 (essentially if you buy basketball tickets we will give you free student football tickets).  You also got a free license plate with this cool new logo that Coach Snyder had introduced (a.k.a The PowerCat that has given us a distinct look nationally.) There was no tailgating at that time.  I could walk to the game from my dorm and have pretty much my pick of seat without waiting in any lines.  I (regret) that I decided to go home on the weekend of the only game they won that year."
That game was against North Texas, climaxing in a moment that has become historic for K-State and college football as a whole.
Ex-Kansas State students remember fondly the names Bishop, Beasley, Fatafehi, Smith, Sims, May, Kelly, and Mendez, to name a few. Iconic images, like Derrick Yates in the snow after a last second defeat of perennial powerhouse Nebraska or Darren Sproles outracing the entire state of Oklahoma (with a few kids from California, Texas, and Florida for good measure) en route to a destructive rout of the University of Oklahoma in the Big XII Championship Game in early 2004 in Arrowhead Stadium fill the minds of these elder Catbackers. Mitch Holthus' famous "Red Sea" quote following K-State's first victory over Oklahoma in a long time. The first stanza of Snyder's career at Kansas State was bookended by moral victories and lasted from 1989 to 2005.
Five years saw an 0-11 team go 11-1.
His second stanza rhymed. Ron Prince, his successor, had been run out of Manhattan after a poor record and coaching conflicts derailed his career (Prince had such coaches as Penn State's James Franklin and Ricky Rahne, current Nebraska head coach Scott Frost, and former Tampa Bay Buccaneers head coach Raheem Morris, and still managed a losing record). Snyder then took it upon himself to come back in 2009 to right the ship. Three years later, Collin Klein hoisted the second Big 12 Championship trophy ever to see Manhattan, Kansas. Names like Sproles, Newman, Simoneau, Roberson, Klein, Thomas, Hubert, Lockett, Waters, Ertz, Barnes, Schoen, and Risner lead a list of second-stanza SnyderCats. Abilene especially remembers the names Sexton and Whitehair.
That narrative has been spread so many times that today, as Bill Snyder hangs up his white Nikes and bowl game windbreakers for good, there seems to be very little fanfare across the college football world. He was never a national champion, and his two Big XII trophies seem minuscule compared to the Mack Browns and Bobby Stoopses (himself a former K-State coordinator) of the college football world. He was called overrated time after time during his second stint at K-State, which culminated in a 17-point comeback-from-behind Iowa State loss that left Snyder mute with reporters. 2018 saw many reporters and fans calling for his head. As of December 11th, Snyder's successor has been tabbed in powerhouse North Dakota State coach Chris Klieman. Still, just a week following, Kansas is mourning the loss of one of its' brightest minds.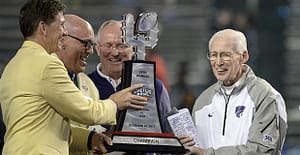 He was not just a football coach.
Kirk Herbstreit, the former Ohio State quarterback and ESPN centerpiece, noted that December 2nd, 2018 was "a sad day" for college football as a whole. He reiterated himself on December 10th in a tweet. Colleague Brad Edwards called him a "top ten coach ever." Many prominent sports writers call him a better coach than Nick Saban. He was name dropped in the Adam Sandler remake of The Longest Yard, earned praise from pro football coaches such as Dick Vermeil and Barry Switzer, and pretty much doubled Taco Bell sales in the state of Kansas overnight with a confession in a postgame press conference.
This was all before The Miracle in Manhattan came out.
Principal Burton thinks back to the goals Snyder instilled in his players. "I have heard Coach Snyder speak in person a couple times and of course many times through the media after games or during press conferences.  His message has always been the same.  Pay attention to detail.  Hold yourself accountable.  Get better every day.  Small increments of improvement over a sustained period lead to significant, long lasting improvement. His vision, his work, his energy changed a culture and gave K-State and their alum/fans something of which to be proud.  Along with touching the lives of those who played for him and bought into what he was saying. People would complain about his slow style of running the clock, but he knew what he was doing.  He put his players in the best possible position for them to compete and win."
History teacher Janeal Schmidt is a Kansas State graduate. She also feels like Snyder's impact was best felt by those who learned from him: "It is a bittersweet time for Wildcat fans.  Coach Snyder has taught all of us, fans and players alike, the importance of constant improvement.  He told us as a staff when he filmed a video for us a few years ago, to become 'a little better every day'.  It is important in life to constantly be moving forward.  I also appreciate his dedication.  As a college student, I would drive by the Vanier complex frequently and it didn't matter what time of day or what day of the week, you could bet on Coach's Cadillac being in the parking lot. Finally, I appreciate his integrity as a leader.  Over the years he made many difficult decisions but he always did so through the lens of doing what was right for the program.  He would often send written notes to players on the opposing team who had a tremendous performance against K-State and congratulate them.  While he has taught us all many lessons, the top three I would highlight are constant improvement, dedication, and integrity."
His Sixteen Goals for Success resonate with math teacher Andy Cook, himself a K-State fan since his youth and graduate of their online university.
"Coach Snyder taught us all that success is in reach for all of us. We can all achieve at a high level. But it takes work. It takes commitment. It takes great effort and self-discipline. The 16 Goals for Success that Snyder teaches his players are very similar to our concept of GRIT here at Abilene High School. It's about doing the important things that make us successful, doing them the right way, and doing them that way every time."
Assistant basketball and Junior Varsity coach Erik Graefe pointed to Snyder as a lodestar. "99.9% of dreams die before ever reaching even the point of imagination because they are deemed unattainable, impossible, and foolish. What is lacking is a model, something tangible pointing towards the possibility that dreams are not to die, but to be enacted. Anyone who knows Coach Snyder's story possesses such a model for a lifetime. I am such a person, and will be grateful to Coach Snyder for the rest of my life."
The cliché of "gone but not forgotten" is often under blown in college sports. Few remember the Bo Schembechlers, Tom Osbornes, and Bear Bryants in today's climate of college football. If they do, they count numbers: championships, win percentages, bowl victories. Snyder will never hold a candle to the football success they've had, whether that be a product of the recruiting tactics he's employed, his play call, or whatever. But Bill Snyder, in a way, seems to tower over all of them in importance–not just to the university he coached for 27 seasons, but to the community he helped survive. His reach extended far from Manhattan. He is revered in all cities, from Ottawa to Osawatomie; Abilene to Wichita. Even the doctor's university to the east of Manhattan has to tip their hat to him–he made their state relevant. K-State wasn't a loser. It was a football school. Even now, it's much more.
Abilene offers just a bit of remembrance of the man they called the Wizard, the Engineer of the Manhattan Project, and the Architect of the greatest turnaround in college football history. The staff of Abilene High School who were fortunate enough to experience his coaching legacy and the impact it had offer just one thought, mirroring the Brooks and Dunn tune that played before every home game that Snyder took the reigns of:
They are proud of the house that he has built.
<>
We at the Abilene Booster encourage readers with pictures of themselves with Snyder or their favorite Wildcat football memories to send those in to cdelay@abileneschools.org to be featured in a picture collage on the Booster website.
Leave a Comment