Unsung: Triston Stover and Jonathan Ritchie
Lucas Cook looks into one of the most explosive tandems Abilene Track has to offer: Junior hurdlers and sprinters Jonathan Ritchie and Triston Stover.
April 29, 2019
HOLTON, KANSAS – As a group of younger children moved the hurdles into place, one could tell that the anxiety of a new season was quickly being lost on a few of the track's runners. A smallish group of runners had congregated around the first turn, where blocks were being wheeled over in a wheelbarrow.
Triston Stover pointed to the wheelbarrow. Jonathan Ritchie's eyes followed. "That's different."
Indeed, most blocks were wheeled over on a specially designed cart. The woodland backdrop of Holton's track gave it the bit of atmosphere it needed to take that wheelbarrow image and run with it. It was the first meet of the season, but for the two boys in the 300 meter hurdles, it didn't feel that way.
They both walked over to their lane assignments and set their blocks, a methodical approach utilized by most sprinters and hurdlers. One step back, a step and a half here, maybe two or three here. Despite the complexity, they have it down in seconds.
The two of them were in adjacent lanes, trained on the starter with gun in hand. The second it fired, the both of them took off. Three bounds in, it was clear that it would be the same for this race as it had always seemed to be–neck and neck, the two boys. Jonathan was a bit in pain, and he noticed that about halfway through. Triston took this game at fifth place and 47 seconds, and Jonathan settled for sixth, just a half-second behind him.
This was an echo from an earlier race, the 110 meter hurdles, in which Triston actually won the race in 17 seconds, leaving Jonathan, pained, in fourth with almost 20 seconds in an uncharacteristic race. He was quick to motion for his leg, and it was quickly diagnosed as a muscle sore. He would have to meet with the athletic trainer, Justin, the next day.
Once the race ended, the two of them found their way back to the camp and sat down. This was the way it always was for the two of them: goof off, warm up, race, finish next to each other, cool down, repeat.
---
ABILENE, KS — Both boys started running track their seventh grade years.
"I think that was actually the race that I disqualified in," Triston laughed, looking back and forth between himself and Jonathan.
Fellow junior Aaron Geissinger, a friend, noted that the two were not very competitive early on. "It really took them a while to get going."
At some point, their friendship took a different turn. Both of them were suddenly good at the hurdles. Not only were they both good at it, but they both ran pretty much the same times for their events. Neither of them ran a hurdles event the other did not, but it always seemed like the only opponents they were running against were each other.
Jonathan would win one race, and Triston would win another. It compounded into this either-or pattern last season, with both runners increasing their speed and bettering their times at the same time. They rode this wave of him-then-him right up until league, where then-senior Dominick Campbell made it to the state meet and left the two behind.
This year, however, there is no ceiling for the two. Their rivalry will likely extend long into track's "postseason," despite neither of them reaching Wichita State's Shocker Pre-State meet in mid-April.
"I'm feeling really confident," Triston noted, practicing for the 4×100 meter dash with Dakotah Whiteley. Jonathan, nearby, nodded his head, although a bit tentatively.
"That's how it's always been for those two," Aaron continued, "neck and neck."
---
CHAPMAN, KS – Jonathan's legs were still sore from a charlie horse he suffered in the first meet during the hurdles. He massaged them tenderly while Triston talked eagerly about his spikes.
"I got them from Ross," he said, entertained on the surprise. "If you go in the winter, then their prices are super low." He was riding the high of the recent purchase of a BMX scooter, and was eager to talk about that clear up to the gun.
He and Jonathan were not in adjacent lanes–this had begun to become common throughout this season–and when the gun fired, it was clear that Jonathan was still hurting. He finished a second or two in front of Triston, who himself struggled a bit with the track in Chapman. Triston took fifth and Jonathon fourth in the 300 meter hurdles, with similar results in the normal 110 hurdles.
"It sucked. Way too hard. My spikes couldn't dig in." Triston was a bit more blunt about it than Jonathan, who simply called it "bad".
Jonathan had already begun to self-diagnose what was wrong with his legs. He attacked the day a bit more lightly than he normally would have, and decided to tell the coaches for the next meet. What resulted was a lessening of practice procedures. He was largely held out of a lot of further races, only running a few hurdles races with a backup 4×100 spot occasionally tossed in.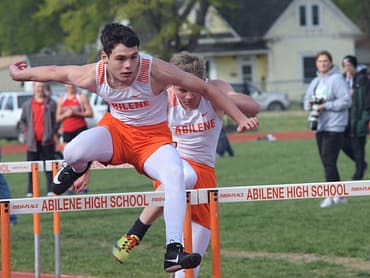 "I'm just really disappointed with it right now." Jonathan noted during practice a week later. Nearly every day afterward had an instance of at least one twinge of calf pain–and yet he still practiced every day, working hard on exiting the blocks and his hurdle form. Hurdles are a big deal to both runners, but Triston has found some traction elsewhere, being slotted into the final leg of the 4×100 meter relay. Jonathan, on the other hand, had not been so lucky. So he spent his practices polishing an already shiny stone.
The two boys both left Chapman a little disappointed–which was par for the course for runners in white and orange in general. Abilene had done fairly well in some select field events, but most running events for the boys went to Chapman or Wamego runners–with a few exceptions made for the dying St. John's Military Academy students.
The next practice, it was back to work. They had Riley County to focus on.
---
RILEY COUNTY, KS – The duo stood on the side of the blue track in Riley County, waiting for the first call for the 300 hurdles. Beside them stood senior Braydon Surritte, as well as freshman Joy Clemence. Each of them took glances at the starting line every minute or so. It would be nearly twenty minutes before Charles Steauffer walked over to start the race, so there was yet more time to talk. So the two boys crossed their arms and talked with the rest of the group.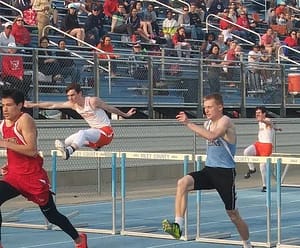 Minutes later, they were on the blocks–Jonathan in a lane near Triston, both sets of eyes facing forward out of the blocks. The gun fired, and they took off, equidistant. It mirrored almost perfectly the 110 meter hurdle race from earlier. Jonathan, still struggling with shin splints, had covered his legs in biofreeze to try to help some of the pain. It didn't work as well, but he still competed behind Triston.
In between, Triston had run the second leg of the varsity 4×100 meter relay. The team had finished well enough to earn points, but unfortunately had been disqualified. In another lane ran Jonathan, the third leg of the secondary team for Abilene, which did earn points.
These thoughts ran through their heads during the 300. A perfect mirror image. Triston took this race again.
Immediately following, both boys walked slowly back to where their stuff had been laid. Jonathan gave the biofreeze back to its original owner before pondering whether or not he wanted to cool down with Triston. Triston eventually walked on over, and the two sat in silence, occasionally pointing out something that they had injured. Leg injuries became fishing stories over the next handful of minutes–one always one-upped the other with a muscle pull, a stress fracture, a season-ending injury.
It was a stark contrast to the last year the two were there. Temperatures sank into the low 40s, more runners experienced injuries due to tightness from the cold, and the timing equipment and wiring froze over during the two boys' hurdle race. This resulted in one of the longest delays for timing and placing either of the two had experienced at a track meet.
"It was really frustrating," Jonathan said about the meet prior, "so I'm really glad that this meet did better."
---
ABILENE, KS – KEN RUSSELL TRACK
The two were back in action in the hurdles again.
With an Abilene sweep clearly in hand and the field events had just begun to die down, there really wasn't much pressure put on the two boys to blow anyone out in the event.
They did anyway.
Triston set for himself a new record just underneath sixteen seconds, cementing himself as the team's hurdler of choice. Right behind him? Jonathan Ritchie, only a second behind and obtaining the silver medal. Sprinters coach Molly Burton was so impressed with the twos' times that she immediately took to Facebook to praise the two, posting a picture of Triston sprinting down the stretch.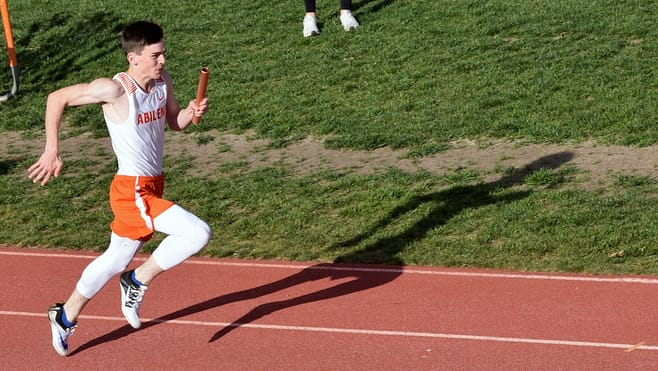 Minutes later, the two were in the first team 4×100 meter relay. Triston handed the baton off to Jonathan. At a time of just over 46 seconds, the team breezed to first place. Count four medals altogether by this point, and they still weren't done yet. That would come in the 300 meter hurdles.
For the 300, both boys were slated in the final heat with the rest of the good competitors. Sophomore Trey Tovar was their only real competition. Abilene responded to their already fantastic score by stacking the 300, with Tovar placing first and Jonathan second, followed by Triston, still a bit winded, in third.
A week later, the two were back performing on the same track.
Dakotah and Triston botched a few handoffs before getting right into it. On the Thursday, April 18th varsity meet at home, the track team encountered teams with talent levels similar to what they might be seeing at regionals. Those handoff troubles between Triston and Dakotah came into play again, and the team finished next to last in a disappointing event. Still, Triston faced the rest of the meet again. The two competed well in both hurdles events, with both he and Jonathan placing high in the 300s.
"Just gotta go out there and compete," Jonathan said following his 300s, more than a little bit tired. His shin splints had reached a fever pitch, and he was ready to go home.
---
Practices with the two rhyme. 200s, hurdle work, passing conversations. Then back at it again the next day.
"Are my shinsplints done?" Jonathan ponders the question for a bit before responding. "No. But at this point I don't think they matter anymore. I've pushed through with them, and I'll continue to do just that."
Triston watches the rest of the hurdlers from a crouched stance at his own blocks. Joy Clemence, a freshman hurdler standout, takes off a lane away. Trey Tovar takes his in a few bounds. A little while later he will finish his handoffs with Dakotah Whiteley on a 4×100 that continues to close in on last year's phenomenal group, without standouts Dominick Campbell (a graduate) and senior Dylan Scherbring.
"We'll get there." He affirms. This year, the NCKL is crowded with talent at the sprinter spot. Abilene's 4×100 stands a solid three seconds behind Chapman's, and will have to compete with Clay Center and Wamego for a medal. Triston remains steadfast in his stance, though.
During their 200s, the two stride out, matching their pace exactly, neither slowing down or speeding up. If one slows, the other will win. If one speeds up, the other will pass them. Yet they continue to slowly speed up regardless, proving to each other–and to themselves–that they are the better athlete. The image still stands of the two alone at the front of the pack, side by side in different lanes, in a race all their own. Tunnel vision. Both eyes staring straight forward, the only two racers in the heat.
That's how it was, and that was likely how it was going to be for the next season and a half.
Neck and neck.
Special thanks to both Dave Linn and Kristi Cook, whose photographs were used in this article.