Abilene Slams Loss on Clay
On Tuesday October 1st, The Abilene Cowgirls volleyball team faced off at home against NCKL rival Clay Center. Going into the game the team was still propelled by the momentum brought on by the previous sweep against Chapman the Thursday before.
The game was played in two sets per match, so four games would be played by the Cowgirls.
In the first set, the Cowgirls took a defending lead over the Tigers right off the bat. Eventually, the team would go to win the first set 25-20. The second set victory margin would come to be much more narrow with a 25-23 final score.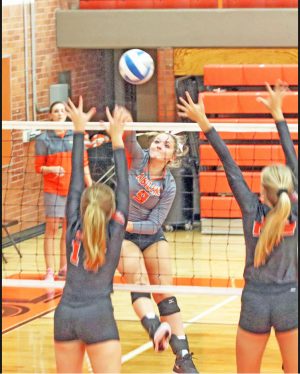 Moreover, the first set of the second match would start out dominant for the Cowgirls, until Mother Nature became upset. After a 3-1 lead by the Cowgirls, there was an announcement that everyone needed to get to the shelters due to the tornado warning being put out in Dickinson County.
After nearly 20 minutes of aniticipation, the game was called back to action. With this, Clay didn't waste time in getting back to the game, going on a four point rally to bring the score to 5-3. After going back and forth for a short time with the scores never being above two, Chesney Sprinkle, sr., gave the power shot that put the tides in motion.
Now with a score of 12-8, the Cowgirls were able to gain slight momentum for a short time. The momentum of the Cowgirls was short lived however, Clay Center stayed in and tied the score at 17. Soon afterward, the game flow was back to where it started. The score was going back and forth to the point where Abilene led over Clay 24-22. Then came the moment that would decide the game, the serve by Clay Center was scuffed and drilled into the net, giving the Cowgirls the win in the first set.
Eventually the second set was called to action. The Cowgirls took out to a quick lead, only to have it tied once again by the Tigers. Soon afterward, Clay Center took a two point lead. With the desire to win, and a couple of kills by Jenna Hayes, soph., and Beth Holmes, sr., the Cowgirls were able to take the lead they once had. After a couple of quick rallies, it was Beth Holmes who sealed the deal for the Cowgirls.
"We weren't playing our best volleyball, but we worked together and were able to beat them in both games. We just kept fighting and didn't feel like giving up." said Jenna Hayes about the play of the Cowgirls
When asked what could've been improved, Emma Wildman had this to say, "We always do a good job of fighting until the end. However, we need to work on keeping our urgency and energy throughout the game."