Ground Breaking Construction
Work on the streets of 14th and Buckeye began on April 15, 2019.  Construction crews began tearing up the streets and signs on Buckeye. The crews were ordered to put in new asphalt on the streets while simultaneously there was work happening at the Kwik Shop to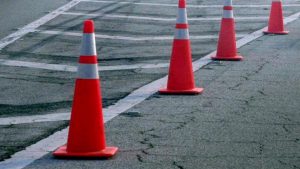 eliminate contamination to the gas and to create better accessibility to the gas tanks from Buckeye. 
The construction on the streets was around for all days of summer and for some of the first part of school. This has been an effect on the community for various people including students, teachers, and working class citizens.
Down the road on Buckeye past 14th Street are businesses such as Sonic, Donut Palace, Pizza Hut, Rittel's Western Wear, Country Mart, McDonald's, Burger King, Holm Automotive, and the Brookville Hotel. Something all of these businesses have in common other than relative location is employment. All of these businesses employ high school students.
One such student is long time friend of mine, who happens to share my last name, is AHS senior Aaron Geissinger. Aaron is employed by Mark and Connie Martin of the Brookville Hotel, which is located on the far side of Buckeye just outside of town.
"I was driving home from a late night of work at about 8:00, and I felt my car fall into a divot. I look at the light on my dashboard two seconds later, and my check engine light came on. I had only a small panic attack." said Geissinger of the matter.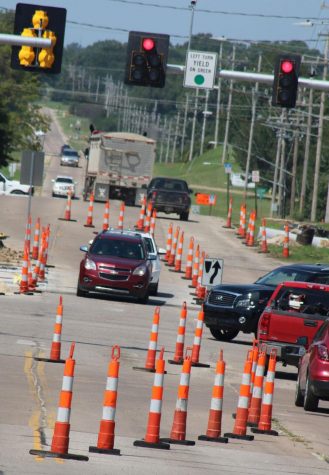 Pizza Hut is another prominent employment of Abilene High School students. One such student who is employed by Pizza Hut is AHS Senior Austin Mather.
Austin had this to say, "I work on the weekends, so there's either a lot of people on the road or there's nobody at all. So normally I just go at my own pace no matter what. I like to take the turns fast so I have less chance of getting T-Boned. But now if I take the turns too fast then I can screw up the engine or something, and I'm not trying to drop any more cash on repairs."
So essentially, having the divots in the street alone caused either a mental or financial bearing on the students. However, on the other side of the stone walls of AHS is the community around it and how they were affected by it.
One such citizen is Middle School Art Teacher, Casey Callis. Callis is a longtime resident of Abilene and lives within a couple hundred feet of where the gas tanks will be located. He had some words to say about the topic as well, "The city has put the residents that this greatly effects in harms way, our general health, safety and welfare," said Callis, "You would never agree to this in your backyard."
So whether these changes effect the way you get to your job, the places where you spend leisure time, or if it overall effects your daily life. Know that the people in charge always have good intentions. For mistakes are opportunities to learn.