Spooky Season @ AHS
Every October people all around the world celebrate Halloween, including the staff and students at AHS. We went around the school and asked different students and teachers questions about their favorite things about the Halloween season, including their favorite costumes growing up and their favorite candy. 
Personally, when I think about Halloween, I think about how excited I got when my parents told me it was time to put on my outfit and get ready to go trick-or-treating. I also loved going to my grandma and grandpa's house to get a big bag full of Halloween goodies.  
Everyone has their own thoughts and feelings about this holiday, some being happy and others being spooky. Freshman, Tristan Randles is one of the students who has a spooky outlook on Halloween, saying he thinks of scaring people—watch out Jackson and Grace! 
Sophomores Alice Bathurst and Lyndsey Buechman have a more positive outlook on the day saying, "When I think of Halloween, I think of cute costumes I wore when I was a kid and trading candy with my siblings."  
Childhood Throwback  
Asking someone what their favorite childhood Halloween costume was can also receive a variety of different responses. Ranging from ghostlike figures to preppy princesses, you can tell everyone's personality by their childhood costumes. 
Matigan Kobiskie, a junior at AHS, is one of the ones whose personality is a direct mirror of their past Halloween costumes. "Literally anything princess, I would wear." she commented. 
Brenton Reiff, soph., also dressed up in a costume that could describe his personality. "My favorite costume was a ghost rider type costume, with red fire on the face mask. It was pretty cool."  
The students weren't the only with a great memory. Mr. Whiteley, AHS math teacher, said that his favorite thing to dress up in during Halloween was his Chewbacca costume from Star Wars. The AHS community would love to see a Halloween throwback Mr. Whiteley.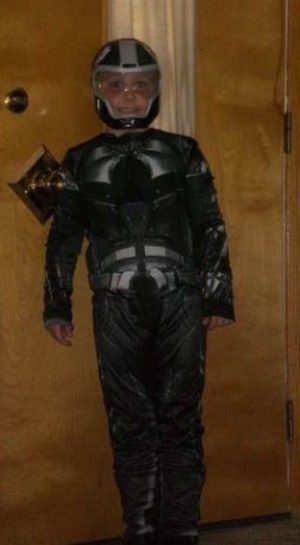 Trick-or . . . Eat? 
If you asked a multitude of people what their favorite part of Halloween is, most would respond that it's the candy. That is also correct for the student body at AHS.  
Mr. Simpson, coach and P.E. teacher, said that his favorite Halloween candy would have to be Mounds—the chocolate covered, coconut goodness.  
Freshman, Kaleb Worthen goes for a bit sweeter candy, going for a Twix bar, and I would have to agree. 
Dawson Surritte, soph., can take a bit more punch during Halloween saying, "Sour Patch Kids are definitely my favorite." I applaud you for your braveness. 
Whether you'd care to admit it or not, Halloween provides many fun filled memories from our childhood. Every year, we get the opportunity to dress up as a completely different identity and stuff our faces with sweets—it's the American dream! Happy Halloween everyone!