Cowboys Face Adversity Once Again
After an embarrassing 0-57 loss to the Clay Center Tigers, the Cowboys have learned a lot from their mistakes. These mistakes consisted of lack of timing on the pitch, creating a hole for the running back, and failure to capitalize on the Tigers' mistakes. Injuries and opportunities were a big part of this past game. Senior Robbie Keener was out from stitches, Senior Karsen Loader broke his tibia and his fibula early in the game, and Junior Stuart Scott was unable to play due to lack of practices. 
What many people do not realize is that this is a young football team. When a team is young and inexperienced, their goal can seem out of reach. However, a plus side to this is that they build more experience under their belt for the upcoming year, which then produces a better program and team.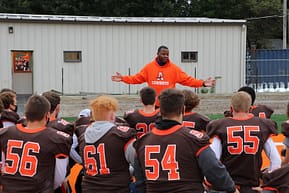 The Abilene Cowboys came into this past game wanting to execute every single defensive and offensive play. While in the locker room, one thing that was mentioned a lot was the fact that the guys had to get low and make tackles. Former Kansas State and NFL Quarterback Michael Bishop made an appearance to give a pre-game speech. One thing that Michael said was, "How would you like to be remembered?" This statement clearly sticks to the fact that this night was going to be a night to remember because it was the home opener for the new and improved Cowboy Stadium. 
This night was one to remember, however, not in a good way. Mistakes were made the entire way through, even though the cowboys managed to stay with the panthers the entire way through the first quarter. The running game of the Panthers killed this cowboy defense. The Cowboys had let up 371 rushing yards, forty-one passing yards, and five touchdowns. With the final score of 0-42, the Cowboys will stay home next week and face the Chapman Fighting Irish on September 18. 
Although the first game at the new and improved Paul Dennis Field did not live up to the hype, there will be many more games for the Cowboys to redeem themselves. A win will be had on that field at some point.