Trap Shooting Makes its Mark in School History
Nineteen Abilene High School students are making history as part of a newly formed AHS Trapshooting team.  The team provides a new type of challenge for students wanting to get off the couch and into the great outdoors.
"It's an opportunity for some kids to represent the school but also a chance to see them grow," said Coach Todd Callahan.  "A lot of these kids were good shooters but maybe new to trap, so this is a challenge and an opportunity for them to grow as individuals."
"This is the first year of its existence in Abilene and first year I've ever really done trap shooting," said Sophomore Tyler Brown.
Trap shooting is an organized shooting competition based off of twenty-five shots per round.   Original trap shooting would've involved live birds in a "trap" to be let loose at intervals.  In this case, instead of shooting live birds, the team aims at clay pigeons which are hurled into the air at various speeds and directions with a machine built for the job.
"They have to locate them, lead them and break them," Callahan said.
Competitors make it their aim to shoot a perfect 25 shots.  But that's tough to do.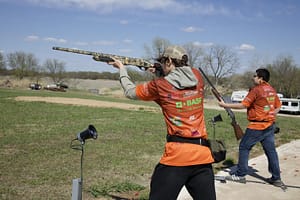 "I think it's amazing to get out here and do something new that I've never got to try before," Junior Zander Ehrich said.
Generous donors have made the trapshooting team a reality as well. Pinnacle Bank donated the clay pigeons. Other provisions made by Greg Huston and Terry Swearingen include the land and the trap house.
The competition will divide into conferences. Abilene will be at the 1A conference seven. This season the trapshooting club will compete against Anderson County, Haven, Hiawatha, Meade, Lyons, Mission Valley, Trego, and Triplanes school districts. The conference average is about fifteen shooters, so the top fifteen shooters will be registered to compete each week.
It's never easy being the inaugural team for any sport.  However, with good leadership and hard work, anything is possible for this young team. Good luck to them as they fire into their first season.