Free Your Face, Mask Guideline Lifted in Abilene Schools
May 18, 2021
On Friday, May 14, the school board unanimously decided to lift the mask mandate in all Abilene schools during a board meeting. Superintendent Greg Brown said the making of the decision took place in light of the governor's announcement after recent changes in CDC guidelines. The board also thought it would be best to let students individually choose whether or not they want to wear masks at school. They agreed that a student should be responsible for their health.
All year, students and faculty were required to wear a mask to school. However, Friday's announcement created a wave of change throughout the schools.
Mrs. Rogers was just one teacher who was ready for the change. "It was hard to speak loudly to a class and wear a mask," said Mrs. Rogers as she showed her relief.
Schools in Abilene looked different immediately after the meeting as many students took off their masks and left them off for the rest of the day. It has been an interesting change for everyone. The announcement took many students and teachers by surprise, "It's going to be weird. I might forget," said Junior Trystin Herbert.
It is safe to say that there have been some very mixed emotions about the mandate being lifted. Many students and teachers wanted to celebrate after the announcement, but some were still concerned about the risks.There are also some people who are still thinking about what this change would mean for everyone. Although they may want to stop wanting wearing masks, they still have concerns for themselves and others.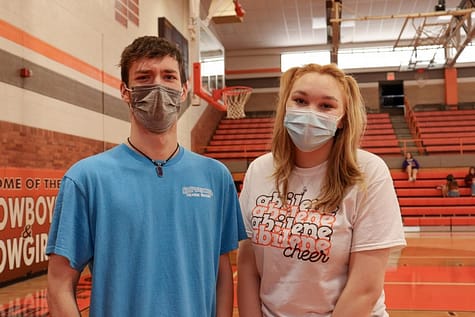 "I don't know how I feel about it yet," said junior Maren Meneley. "I'm fine with it if you're vaccinated."Other students and faculty feel the same way and have decided to continue wearing masks at school.  
Sophomore Avery Haug expressed that he is concerned for those at risk and would like to keep his family safe. "I'd rather not catch COVID," Avery said.  
 Many people have been excited for the day that they could finally walk the halls without a mask. "It feels great not having masks," said Junior Elisa Day.  
The choice that is now given to students and faculty at school has created new thoughts and conversations. "I feel like lifting the mandate is appropriate because of the low number of COVID cases," said junior Maxwell Callahan. 
Being able to see the faces of students and teachers is a bit of an adjustment. Many students have been surprised to see a new teacher's face for the very first time. These last days of school are bound to be very different from the rest of the school year so far. 
"It makes me a little nervous. . . but I'm so glad to see your faces," Mrs. Fritz said.