The Man Behind the Screen
If you go to a track meet you expect to see athletes running fast, jumping high, or throwing far. However, what you may not see is the people making sure the meet goes smoothly. Braden Adams is a junior at Abilene High School and has a huge part in keeping the meets on track. Braden is in charge of running the video board, which displays athlete's times, distances, and placements. The video board position was created this year when the new video board was installed.  
"I've worked for the school tech department for a couple of years, and when they installed the scoreboard, Mike Liby asked me to take a training course," Adams said. 
What makes it so fascinating is that Braden had to figure it out as he went along because there was no one else that had done it before him.  
"It takes a lot of work, but what took the most work was being the first person to do all of this because there was no one else to show me."  
 While the meets are going, Braden has to keep up with all the incoming results from the competitions.  
"During the meets we are getting the results from their electronic system. I only have a couple minutes from the time I get the results until the time they need to be announced,"  Braden said.
A couple minutes is a very small window for everything that has to be done for each slide. Each slide can not just be copied and pasted either.  
"This was another big thing that took forever to figure out; I have to get the results, copy it into a google sheet, reformat it, screenshot it, put it in a folder that goes into the software we use. Then I communicate with the announcer, and when he is ready to announce, I put the slide on the board."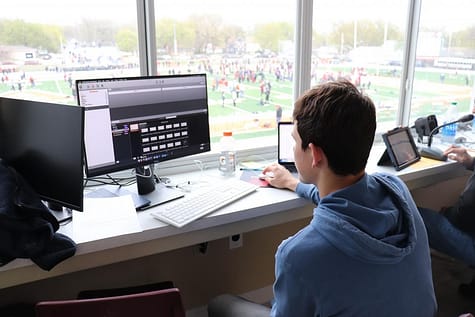 However, Braden is not learning all this just to work the position until he graduates. He is paving the way for upcoming students who are interested in the position.  He works with Mrs. Bathurst, the AHS Student Media teacher, to display student content.  Recently, the Sports Marketing class teamed up with Braden to show off Abilene springs sports. The class gathered footage of athletes and put together videos promoting the school's sports. Then Braden took those videos and put them up on the video board at the track meet for the community to see. 
"I recommend this job, it is really cool getting to figure all the stuff out, and it really adds a lot to track meets or football games. It's a good job."