Unfortunate End to Cowboy Football's Season
The Abilene Cowboys football season came to a screeching halt on Friday, October 26th as they faced the Ulysses Tigers—and this time, the outcome was much different. The Tigers stomped the Cowboys, 28-0, in perhaps the worst offensive showing of the season. Unfortunately, this was the end of the road for the 22
seniors on the Abilene squad.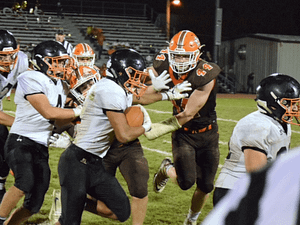 Abilene couldn't get anything rolling on the offensive end due to little mistakes: turnovers, missed blocks, and poor execution. Senior Preston Boyd stated. "We couldn't get our man off the ball, so we couldn't move the ball. Our runningbacks couldn't get far and they did a good job adjusting from the previous game." The Cowboys finished the season with a 4-5 record and hope to return around 9 seniors-to-be next year.
Assistant coach Brad Hartman stated, "We endured a roller coaster
season. I saw much improvement during the season and we had some
seniors step up more than they ever have. Unfortunately,
we just couldn't find the consistency to win as many games as we could have."
"We just couldn't find the consistency to win as many games as we could have." – Assistant Coach Brad Hartman
When asked about his season coming to an end for the last time, Boyd stated, "It doesn't seem real…I've been a cowboy for 9 years now. It's hard to believe that it has finally come to an end, but I am excited for the future." Senior Danny Espinoza, who suffered from a season-ending injury in the second game, stated, "It's hard knowing that I will never get a chance to play Abilene football again as I have been playing all throughout high school. Unfortunately, that feeling came to me very quickly because of injury but I am healing well. It has been a good ride."