Cowgirl Volleyball Slams into a Winning Record
The Abilene Cowgirls took to the courts on Thursday, September 27th at Hays and finished the night with two wins and one loss. They outlasted Norton in three sets, competing well but making minor mistakes. In the second battle against a solid Hays team, the Cowgirls jumped out and won the first match. Unfortunately, they fumbled away the next two games and lost the series. The Cowgirls used the loss as motivation to handle the Lady Cougars of Salina South in two matches.

Coach Jantz stated, "We lost a close one that we let slip away. We have to get better at eliminating errors. That's been the story all year long, and if we're going to be successful that's what will have to happen is minimizing errors." Luckily, the Cowgirls walked away from the gym feeling somewhat accomplished as they went 2-1 on the night, improving their record to 12-11.
Senior hitter Hannah Willey said, "We had some good moments where we built momentum, but we also had some bad runs where it seemed like we couldn't get anything going. Volleyball is a game of
momentum, and it can shift from good to bad pretty quickly."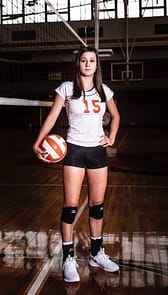 Senior libero Turner Alderson exclaimed, "I was proud of our team for fighting through adversity, but we need to improve on limiting our mistakes. If we can figure out a way to do that, I think we can become an even better team."
The Cowgirls will have a chance to improve on the "little mistakes" on Tuesday, October 2nd as they travel to Clay Center to battle for league standings against the Lady Tigers.